VA Form 10-0379 Ecclesiastical Endorsing Organization Request to Designate Ecclesiastical Endorsing Official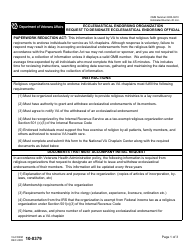 VA Form 10-0379 is a United States Department of Veterans Affairs form also known as the "Ecclesiastical Endorsing Organization Request To Designate Ecclesiastical Endorsing Official".
The form was last revised on December 1, 2005 - download an up-to-date fillable PDF VA Form 10-0379 down below or find it on the Veterans Affairs Forms website.
OMB Number 2900-0610
Estimated Burden 45 min.
ECCLESIASTICAL ENDORSING ORGANIZATION
REQUEST TO DESIGNATE ECCLESIASTICAL ENDORSING OFFICIAL
PAPERWORK REDUCTION ACT: This information is used by VA to show that religious faith groups meet
reqirements to endorse individuals for service as VA chaplains. Although response is voluntary, failure to
respond may result in delay in accepting ecclesiastical endorsements from the religious faith group. In
accordance with the Paperwork Reduction Act we may not.conduct or sponsor, and you are not required to
respond to, a collection of information unless it displays a valid OMB number. We anticipate that the
average time expended by all individuals who must complete this form will be 45 minutes. This includes
time for reviewing instructions, searching existing data sources, gathering and maintaining the data needed,
and completing and reviewing the collection of information.
INSTRUCTIONS
Religious organizations seeking to endorse individuals for work as VA chaplains must fulfill the following
requirements:
(1) Must be organized exclusively or substantially to provide religious ministries to a lay constituency
(2) Must have authority to grant and withdraw ecclesiastical endorsements of its members.
(3) Must agree to notify VA of the withdrawal of an ecclesiastical endorsement
(4) Must be recognized by the Internal Revenue Service as a tax-exempt religious organization under
Section 501 (c)(3) of the Internal Revenue Code
(5) Endorsed individuals must support the free exercise of religion by all patients, family members, and
others authorized to receive VA health care.
(6) Must complete and submit this form to the National VA Chaplain Center along with the required
documents as listed below
DOCUMENTS THAT MUST ACCOMPANY INITIAL REQUEST
In accordance with Veterans Health Administration policy, the following information is required from
religious organizations that request to designate an official to issue and withdraw ecclesiastical
endorsements of their members. This information will be updated every three years
(1) Explanation of the structure and purpose of the organization (copies of articles of incorporation, by-
laws, constitution, etc)
(2) Membership requirements of the organization
(3) Requirements for membership in the clergy (education, experience, licensure, ordination etc.)
(4) Documentation from the IRS that the organization is exempt from Federal income tax as a religious
organization under Section 501(c)(3) of the Internal Revenue Code
(5) Name, address, and phone number of each person seeking ecclesiastical endorsement for
appointment as a VA chaplain
Page 1 of 3
VA FORM
10-0379
DEC 2005
Download VA Form 10-0379 Ecclesiastical Endorsing Organization Request to Designate Ecclesiastical Endorsing Official