VA Form 10-0102 Career Development Application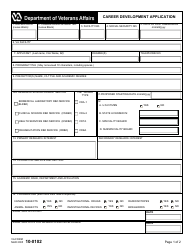 VA Form 10-0102 is a United States Department of Veterans Affairs form also known as the "Career Development Application".
The form was last revised on March 1, 2005 - download an up-to-date fillable PDF VA Form 10-0102 down below or find it on the Veterans Affairs Forms website.
CAREER DEVELOPMENT APPLICATION
1. REVIEW DATE
2. CAREER DEVELOPMENT NO.
5. DATE OF LAST SUBMISSION
3. FACILITY NO.
4. SOCIAL SECURITY NO.
(Leave Blank)
(Leave Blank)
mm/dd/yyyy
6. VA FACILITY
7. APPLICANT (Last name, First Name, MI)
DEGREE(S)
TELEPHONE NO.
8. PROGRAM TITLE ( May not exceed 72 characters, including spaces.)
9. PRECEPTOR(S) NAME, VA TITLE AND ACADEMIC DEGREE
10A. RESEARCH & DEVELOPMENT SERVICE
10B. AWARD
11.PROPOSED STARTING DATE mm/dd/yyyy
TYPE
12.
BIOMEDICAL LABORATORY R&D SERVICE
CDA-1
(BLR&D)
YES
NO
A. U.S.CITIZEN
CLINICAL SCIENCE R&D SERVICE (CSR&D)
CDA-2
B. STATE LICENSED IN:
C. SPECIALITY BOARD:
HEALTH SERVICES R&D SERVICE (HSR&D)
CDTA
D. SUBSPECIALITY BOARD:
REHABILITATION R&D SERVICE (RR&D)
CDEA
13. PRIMARY RESEARCH INTEREST
SECONDARY RESEARCH INTEREST
14. VA HOSPITAL SERVICE AND SECTION
15. ACADEMIC RANK, DEPARTMENT AND AFFILIATION
16. PROGRAM USE (Each item must have a response)
HUMAN SUBJECTS
YES
NO
INVESTIGATIONAL DRUGS
YES
NO
RADIOISOTOPES
YES
NO
YES
NO
YES
NO
YES
NO
ANIMAL SUBJECTS
INVESTIGATIONAL DEVICES
BIOHAZARDS
SIGNATURE APPLICANT
DATE
SIGNATURE ACOS FOR RESEARCH AND DEVELOPMENT
DATE
VA FORM
10-0102
Page 1 of 2
MAR 2005