DD Form 1351-2C Travel Voucher or Subvoucher (Continuation Sheet)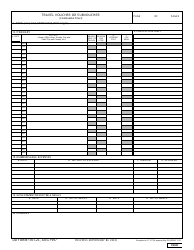 What Is DD Form 1351-2C
The DD Form 1351-2C, Travel Voucher or Subvoucher (Continuation Sheet) is an additional page for the DD Form 1351-2, Travel Voucher or Subvoucher. The Continuation Sheet is added to the voucher in cases when there is not enough space to accurately document travel itinerary and reimbursable expenses on the original form.
The DD 1351-2C was released by the Department of Defense in August 1997 with previous editions of the form still being in use. An up-to-date fillable version of the form is available for download or digital filing below.
The Travel Voucher Continuation Sheet is part of a series of Military travel and reimbursement-related forms along with the DD Form 1351-3 and DD Form 1351-5. The series was introduced as a means of automated digital data collection for computing reimbursements and pay back individuals traveling for official Government business purposes.
TRAVEL VOUCHER OR SUBVOUCHER
PAGE
OF
PAGES
(Continuation Sheet)
4. NAME (Last, First, Middle Initial) (Print or type)
3. FOR D.O. USE ONLY
15. ITINERARY
c.
d.
b. PLACE
e.
f.
a. DATE
MEANS/
REASON
(Home, Office, Base, Activity, City and
LODGING
POC
MODE OF
FOR
State; City and Country, etc.)
COST
MILES
TRAVEL
STOP
DEP
ARR
DEP
ARR
DEP
ARR
DEP
ARR
DEP
ARR
DEP
ARR
DEP
ARR
DEP
ARR
DEP
ARR
DEP
ARR
DEP
ARR
DEP
ARR
DEP
ARR
DEP
ARR
DEP
ARR
18. REIMBURSABLE EXPENSES
a. DATE
b. NATURE OF EXPENSE
d. ALLOWED
c. AMOUNT
19. GOVERNMENT/DEDUCTIBLE MEALS
a. DATE
b. NO. OF MEALS
a. DATE
b. NO. OF MEALS
29. REMARKS
DD FORM 1351-2C, AUG 1997
PREVIOUS EDITION MAY BE USED.
Exception to SF 1012A approved by GSA/IRMS 12-91.
Reset
Download DD Form 1351-2C Travel Voucher or Subvoucher (Continuation Sheet)
DD Form 1351-2C Instructions
The DD 1351-2C follows the same filing instructions as the original Travel Voucher.
The name of the servicemember claiming compensation is input in Box 4.
The Columns in Box 15, Itinerary describe the dates and places of arrival and departure the mode of travel, reasons for stopping, lodging costs and miles traveled.
Boxes 15c and 15d are filled with specific travel codes. Use two letters to describe the means of travel in Box 15c:

T - GTR/TKT or CBA (tickets purchased with a CBA must not be claimed as a reimbursable expense in Item 18);
G - Government Transportation;
C - Commercial Transportation (Own expense);
P - Privately Owned Conveyance (POC);
A - Automobile;
M - Motorcycle;
B - Bus;
P - Plane;
R - Rail;
V - Vessel.

Use a two-letter code to describe the reason for stopping at every location in Box 15d:

AD - Authorized Delay;
AR - Authorized Return;
AT - Awaiting Transportation;
HA - Hospital Admittance;
HD - Hospital Discharge;
LV - Leave En Route;
MC - Mission Complete;
TD - Temporary Duty;
VR - Voluntary Return.

Box 18 is used for describing reimbursable expenses. Box 19, Deductible Meals is used for listing meals consumed when eating in any establishments other than a government mess (see JFTR, par. U4125-A3g and JTR, par. C4554-B for a definition of deductible meals).
Meals received during commercials flights or furnished by private individuals are not considered deductible.
DD 1351-2 Related Forms