DA Form 7434 Application for Us Army Marine Certification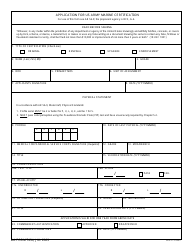 DA Form 7434 or the "Application For Us Army Marine Certification" is a Department of the Army-issued form used by and within the United States Military.
The form - often incorrectly referred to as the DD form 7434 - was last revised on July 1, 2009. Download an up-to-date fillable DA Form 7434 down below in PDF-format or look it up on the Army Publishing Directorate website.
APPLICATION FOR US ARMY MARINE CERTIFICATION
For use of this form see AR 56-9; the proponent agency is DCS, G-4.
READ BEFORE SIGNING
"Whoever, in any matter within the jurisdiction of any department or agency of the United States knowingly and willfully falsifies, conceals, or covers
up by trick, scheme, or device, a material fact, or makes or uses any false writing on a document knowing the same to contain any false, fictitious or
fraudulent statement or entry, shall be fined not more than $10,000 or imprisonment of not more than 5 years or both." (18 USC 1001)
1. TYPE OF CERTIFICATION (Check one)
ORIGINAL
RENEWAL
UPGRADE
ENDORSEMENT
2. NAME (Last, First, MI)
3. GRADE
4. DOR
5. PRIMARY MOS
6. UNIT OF ASSIGNMENT
8. DATE (YYYYMMDD)
7. APPLICANTS SIGNATURE
PHYSICAL STATEMENT
In accordance with AR 56-9, Watercraft, Physical Standards:
1. Profile serial MUST be 2 or better for P, U, L, H, E, and be 1 for S.
2. MUST pass color perception using the Pseudoisochromatic Plate (PIP) test and have visual acuity required by Chapter 5-2.
9. PROFILE
10. DATE OF LAST PHYSICAL (YYYYMMDD)
P
U
L
H
E
S
11. MEDICAL CORPS/MEDICAL SERVICE CORPS SIGNATURE (Required)
12. GRADE
13. MOS/BRANCH
14. TITLE
15. VERIFICATION DATE (YYYYMMDD)
16. COLOR PERCEPTION
16a. TEST TYPE
16b. SCORE
/
PASS
FAIL
17. VISUAL ACUITY
17a. UNCORRECTED
17b. CORRECTED
/
/
/
/
R
L
R
L
19. GRADE
20. MOS/BRANCH
18. OPTOMETRIST SIGNATURE (Required)
21. TITLE
22. VERIFICATION DATE (YYYYMMDD)
APPLICATION IS VALID FOR ONE YEAR FROM ABOVE DATE
23. COMMANDER'S AUTHENTICATION
APPROVED
DISAPPROVED
24. COMMANDER'S SIGNATURE
25. DATE (YYYYMMDD)
DA FORM 7434, JUL 2009
APD LC v1.00ES
Download DA Form 7434 Application for Us Army Marine Certification