DA Form 7510 EEO Counselor's Report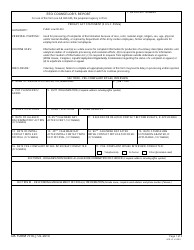 What Is DA Form 7510?
DA Form 7510, EEO Counselor's Report is a document used for processing discrimination complaints made by Department of the Army former employees, current civilian employees, contract employees, or applicants for employment. These complaints are reported via DA Form 2590 and include cases of discrimination on the basis of national origin, age, sex, race, as well as physical or mental disability.
The latest version of the form – sometimes incorrectly referred to as the DD Form 7510 – was released by the Department of the Army in July 2010. An up-to-date DA Form 7510 fillable version is available for digital filing and download below or can be found through the Army Publishing Directorate website.
The information provided in the EEO Counselor Report is primarily used for responding to requests from legitimate agencies and individuals or to general requests according to the Freedom of Information Act. The same information may be later used for compiling descriptive statistics or analytical studies on the subject of discrimination. Disclosure of the information provided in this document is voluntary, but failure to fill in all the required data may lead to a denial or delay in processing the claim.
The DA Form 2590 (Formal Complaint of Discrimination) is a related form used to document complaints of discrimination based on national origin, religion, sex, age, physical or mental disability.
1. DA DOCKET NUMBER
EEO COUNSELOR'S REPORT
For use of this form see AR 690-600, the proponent agency is OSA.
PRIVACY ACT STATEMENT (5 U.S.C. §552a)
Public Law 92-261
AUTHORITY:
Used for processing of complaints of discrimination because of race, color, national origin, religion, sex, age, physical
PRINCIPAL PURPOSE:
and/or mental disability, or reprisal by Department of the Army civilian employees, former employees, applicants for
employment and some contract employees.
Information will be used (a) as a data source for complaint information for production of summary descriptive statistics and
ROUTINE USES:
analytical studies of complaints processing and resolution efforts; (b) to respond to general requests for information
under the Freedom of Information Act; (c) to respond to requests from legitimate outside individuals or agencies
(White House, Congress, Equal Employment Opportunity Commission) regarding the status of a complaint or appeal; or
(d) to adjudicate complaint or appeal.
DISCLOSURE:
Voluntary, however, failure to complete all appropriate portions of this form may lead to delay in processing and/or rejection
of complaint on the basis of inadequate data on which to continue processing.
SECTION l - PRE-COMPLAINT INTAKE INTERVIEW
2. NAME OF AGGRIEVED
3. JOB TITLE
(Print-Last, First, Middle Initial)
4. PAY PLAN/SERIES/
5. DUTY ORGANIZATION
(Complete address including office symbol)
GRADE
6. WORK TELEPHONE
7. HOME TELEPHONE
8. HOME ADDRESS
10. 45
TH
CALENDAR DAY
11. REASON FOR DELAYED CONTACT BEYOND 45 DAYS, IF APPLICABLE
9. DATE OF ALLEGED
AFTER EVENT
DISCRIMINATORY ACTION
(YYYYMMDD)
(YYYYMMDD)
13. 30
TH
CALENDAR DAY
14. 90
TH
CALENDAR DAY AFTER
12. DATE OF INITIAL
15. DATE COUNSELING
AFTER INITIAL CONTACT WITH
INITIAL CONTACT WITH EEO OFFICIAL
CONTACT WITH EEO
EXTENSION GRANTED, IF
EEO OFFICIAL
OFFICIAL
(YYYYMMDD)
(YYYYMMDD)
APPLICABLE
(YYYYMMDD)
(YYYYMMDD)
16. DATE PRE-COMPLAINT INTAKE INTERVIEW CONDUCTED
17. PRE-COMPLAINT INTAKE INTERVIEW CONDUCTED:
(YYYYMMDD)
Telephonically
In-Person
Other (facsimile/e-mail)
SECTION II - ORGANIZATION WHERE ALLEGED DISCRIMINATION OCCURRED
(Complete address including office symbol)
SECTION III - RESPONDING MANAGEMENT OFFICIAL(s) INFORMATION
(Include name, complete work address and phone number if known.)
DA FORM 7510, JUL 2010
Page 1 of 5
APD LC v1.00ES
How to Fill Out DA Form 7510?
An overview of the form and filing guidelines can be found in the Army Regulation 690–600, Equal Employment Opportunity Discrimination Complaints, released in February 2004. DA Form 7510 instructions are as follows:
Any job applicant, employee, contract employee, or former employee who believes to have been discriminated against because of their religion, race, sex, age, national origin, mental or physical disability and wants to report the act can initiate an EEO complaint process.
The first part of the process is referred to as the "pre-complaint". At this stage, the individual visits an EEO official and states the desire to initiate the complaint process. This contact - or information inquiry - is documented using the DA Form 7509, Information Inquiry Summary. This stage lasts until the issuance of the Notice of Right to File a Formal Complaint of Discrimination to the estate administrator or executor.
The individual that initiated the complaint is referred to as the aggrieved. The EEO counselor or official interview the aggrieved and record their complaint on the DA 7510. The official must then determine if the matter presented by the aggrieved can be processed under 29 CFR, Part 1614.
After that, the EEO official will clarify and document the facts related to the specific incident, as well as other important information using the DA Form 7510 and conduct all further investigations according to the data collected.