DA Form 5556 Personnel Requirements Document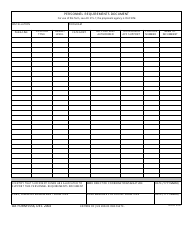 DA Form 5556 or the "Personnel Requirements Document" is a Department of the Army-issued form used by and within the United States Military.
The form - often incorrectly referred to as the DD form 5556 - was last revised on December 1, 2004. Download an up-to-date fillable DA Form 5556 down below in PDF-format or look it up on the Army Publishing Directorate website.
PERSONNEL REQUIREMENTS DOCUMENT
For use of this form, see AR 215-1; the proponent agency is OACSIM.
INSTALLATION
PROGRAM
POSITION
GRADE/
NO. POSITIONS
AUTHORIZED
POSITION
NAME OF
PARA/LINE
CATEGORY
TITLE
LEVEL
AUTHORIZED
APF SUPPORT
NUMBER
INCUMBENT
MWR DIRECTOR COORDINATION/SIGNATURE
DATE (YYYYMMDD)
I CERTIFY THAT SUFFICIENT FUNDS ARE ALLOCATED TO
SUPPORT THIS PERSONNEL REQUIREMENTS DOCUMENT
CHIEF, FINANCIAL MANAGEMENT SIGNATURE
FUND MANAGER'S APPROVAL SIGNATURE
DATE (YYYYMMDD)
DA FORM 5556, DEC 2004
EDITION OF JUN 2004 IS OBSOLETE.
APD LC v1.00