DA Form 4965 Command Logistics Review Program Observation Worksheet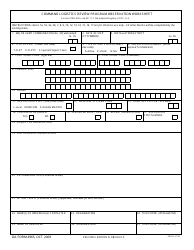 DA Form 4965 - also known as the "Command Logistics Review Program Observation Worksheet" - is a Military form issued and used by the United States Department of the Army.
The form - often mistakenly referred to as the DD form 4965 - was last revised on October 1, 2009. Download an up-to-date fillable PDF version of the DA 4965 below or request a copy through the chain of command.
COMMAND LOGISTICS REVIEW PROGRAM OBSERVATION WORKSHEET
For use of this form, see AR 11-1; the proponent agency is DCS, G-4.
INSTRUCTIONS: Items 1a, 1b, 3a, 3b, 7, 8, 9, 10, 12, 13, 14, 15, 16, 17 are for USALEA use only. All other blocks will be completed by the
visiting team.
2. DATE OF VISIT
3. INSTALLATION/ACTIVITY
1. MAJOR ARMY COMMAND/CONUSA (Of unit visited)
(YYYYMMDD)
1a 1b
3a 3b
4. TYPE OF VISIT (Select one code)
5. TYPE OF UNIT VISITED (Select
6. OBSERVATION NUMBER (Not to
one code)
exceed 12 characters)
T-CLRT
X-CLRTX
S-Special Projects Team
A-Active
R-USAR
N-NG
7. FUNCTIONAL CODE (Effected)
8. FUNCTIONAL CODE (Causative)
9. PUBLICATIONS
10. FORMS
11. RESOLUTION LEVEL (Select one code)
12. WEAPONS SYSTEMS CODE
13. LOGISTICS SUPPORT ELEMENT
L-Local
M-MACOM
S-Outside MACOM
14. FOLLOW-UP REQUIRED?
15. SPECIAL INTEREST ITEM
16. REPEAT OBSERVATION
17. ASSOCIATED
COST/SAVINGS
YES
NO
18. SUBJECT OF OBSERVATION
19. DISCUSSION OF OBSERVATION
20. RECOMMENDATION (Corrective action)
21. ACTION TAKEN (Corrective action, if applicable, otherwise for MACOM use.)
22. NAME(s) OF INDIVIDUAL(s) CONTACTED
23. ORGANIZATION
24. TELEPHONE (DSN and FAX)
25. NAME OF OBSERVER
26. ORGANIZATION
27. TELEPHONE (DSN and FAX)
APD LC v1.00
DA FORM 4965, OCT 2009
PREVIOUS EDITION IS OBSOLETE.
Download DA Form 4965 Command Logistics Review Program Observation Worksheet