DA Form 7648 Quarterly Aircraft Programming and Utilization Flying Hour Report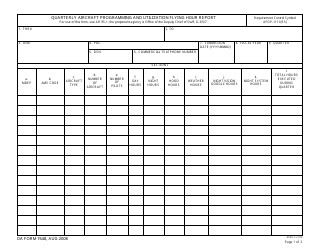 DA Form 7648 or the "Quarterly Aircraft Programming And Utilization Flying Hour Report" is a Department of the Army-issued form used by and within the United States Military.
The form - often incorrectly referred to as the DD form 7648 - was last revised on August 1, 2008. Download an up-to-date fillable DA Form 7648 down below in PDF-format or look it up on the Army Publishing Directorate website.
QUARTERLY AIRCRAFT PROGRAMMING AND UTILIZATION FLYING HOUR REPORT
Requirement Control Symbol
AFOP-1111(R5)
For use of this form, see AR 95-1; the proponent agency is Office of the Deputy Chief of Staff, G-3/5/7.
1. THRU
2. TO
3. UNIT
4. POC
7. SUBMISSION
8. FISCAL YEAR
9. QUARTER
DATE (YYYYMMDD)
5. DSN
6. COMMERCIAL TELEPHONE NUMBER
SECTION I
l.
e.
d.
TOTAL HOURS
j.
k.
c.
g.
h.
i.
f.
NUMBER
a.
b.
NUMBER
EXECUTED
NIGHT VISION
NIGHT SYSTEM
AIRCRAFT
NIGHT
HOOD
WEATHER
DAY
OF
MDEP
AMS CODE
OF
DURING
GOOGLE HOURS
HOURS
TYPE
HOURS
HOURS
HOURS
HOURS
PILOTS
AIRCRAFT
QUARTER
APD LC v1.00
DA FORM 7648, AUG 2008
Page 1 of 2
Download DA Form 7648 Quarterly Aircraft Programming and Utilization Flying Hour Report