DA Form 7375 Commercial Activities Proposed Action Summary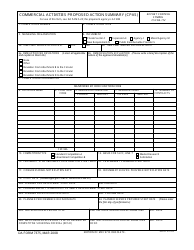 DA Form 7375 - also known as the "Commercial Activities Proposed Action Summary" - is a Military form issued and used by the United States Department of the Army.
The form - often mistakenly referred to as the DD form 7375 - was last revised on March 1, 2008. Download an up-to-date fillable PDF version of the DA 7375 below or request a copy through the chain of command.
COMMERCIAL ACTIVITIES PROPOSED ACTION SUMMARY (CPAS)
REPORT CONTROL
SYMBOL
For use of this form, see DA PAM 5-20; the proponent agency is ACSIM
CSCOA-112
1. COMPETITION NUMBER
2. COMPETITION TITLE
3. MANAGING ORGANIZATION
4. INCUMBENT
Private Sector-C
Expansion-E
Agency-I
Mixed Agency-M
New Requirement-N
Public Reimbursable Provider-S
5a. TIME LIMIT WAIVER APPROVED?
YES
NO
5b. TIME LIMIT WAIVER APPROVAL DATE
6a. OMB APPROVED DEVIATIONS
(Select all applicable
6b. OMB DEVIATION EXPLANTION (Please write a brief description of the
and explain in block 6b.)
nature of the approved deviation(s))
None
Other
Deviation From Attachment B to the Circular
Deviation From Attachment C to the Circular
Deviation From Attachment D to the Circular
7. COMPETITION COORDINATOR
MANPOWER BY DOD FUNCTION CODE
8. LOCATION NAME
9. FUNCTION
10. ANNOUNCED AUTHORIZATIONS
12. NUMBER OF
11. ON-BOARD ASSIGNED
CODE
CONTRACTS
CIVILIAN
MILITARY
CIVILIAN
MILITARY
TOTAL
13. COMPETITION TYPE
14. BASIS FOR SLCF, LINE 7
Standard Competition-A
Market Research
Streamlined Competition-B
Solicitation
15. FEASIBILITY STUDY/BUSINESS CASE ANALYSIS START DATE
16. PRELIMINARY PLANNING START DATE
17. CONGRESSIONAL NOTIFICATION DATE
18. INCUMBENT SERVICE PROVIDER NOTIFICATION DATE
19. START DATE (FedBizOpps.gov PUBLIC ANNOUNCEMENT)
20a. PLANNED PWS DEVELPMENT START DATE
20b. END DATE
21. PLANNED AGENCY TENDER/COST ESTIMATE DEVELOPMENT START DATE
22a. PLANNED SOLICITATION ISSUE DATE
22b. CLOSING DATE
23. PLANNED PERFORMANCE DECISION DATE
24. PLANNED SERVICE PROVIDER START DATE
(Please enter
the first day of performance)
25a. INSTALLATION APPROVAL TITLE
25b. INSTALLATION APPROVAL SIGNATURE
25c. DATE
26a. MSC/FOA/HSSA APPROVAL TITLE OF DELEGATED
26b. MSC/FOA/HSSA APPROVAL SIGNATURE
26c. DATE
COMPETITIVE SOURCING OFFICIAL (DCSO)
DCSO
APD LC v1.01ES
EDITION OF MAY 97 IS OBSOLETE.
DA FORM 7375, MAR 2008
Download DA Form 7375 Commercial Activities Proposed Action Summary