DA Form 5071 Paying Agent Receipt Control and Cash Accountability Journal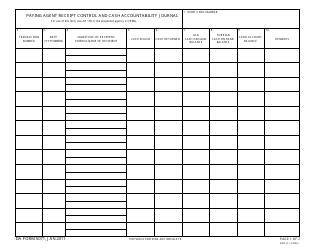 DA Form 5071 - also known as the "Paying Agent Receipt Control And Cash Accountability Journal" - is a Military form issued and used by the United States Department of the Army.
The form - often mistakenly referred to as the DD form 5071 - was last revised on January 1, 2011. Download an up-to-date fillable PDF version of the DA 5071 below or request a copy through the chain of command.
1. DEBIT CARD NUMBER
PAYING AGENT RECEIPT CONTROL AND CASH ACCOUNTABILITY JOURNAL
For use of this form, see AR 195-4; the proponent agency is OPMG.
2.
3.
4.
5.
6.
7.
8.
9.
10.
USD
FOREIGN
TRANSACTION
DATE
SIGNATURE OF RECIPIENT
CARD ACCOUNT
CASH ON HAND
CASH ON HAND
CASH ISSUED
CASH RETURNED
REMARKS
(YYYYMMDD)
NUMBER
PRINTED NAME OF RECIPIENT
BALANCE
BALANCE
BALANCE
DA FORM 5071, JAN 2011
PAGE 1 OF 2
PREVIOUS EDITIONS ARE OBSOLETE.
APD LC v1.00ES
Download DA Form 5071 Paying Agent Receipt Control and Cash Accountability Journal