DA Form 4843 Guest/Attendance Sheet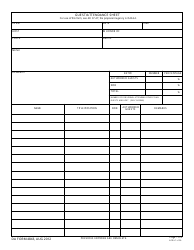 DA Form 4843 - also known as the "Guest/attendance Sheet" - is a United States Military form issued by the Department of the Army.
The form - often mistakenly referred to as the DD form 4843 - was last revised on August 1, 2012. Download an up-to-date fillable PDF version of the DA 4843 down below or look it up on the Army Publishing Directorate website.
GUEST/ATTENDANCE SHEET
For use of this form, see AR 37-47; the proponent agency is OAASA.
EVENT
DATE
TIME
HOST
IN HONOR OF
PLACE
DRESS
MENU
REMARKS
RATIO
NUMBER
PERCENTAGE
AUTHORIZED GUESTS
%
DOD
%
TOTAL
%
NUMBER OF PERSONNEL ATTENDING OTHER THAN
GUESTS AND HOST (SELF PAYING)
AUTHORIZED
NAME
TITLE/POSITION
DOD
REMARKS
GUESTS
Page 1 of 2
PREVIOUS EDITIONS ARE OBSOLETE.
DA FORM 4843, AUG 2012
APD LC v1.00