DA Form 4850-1-R Nonappropriated Funds Time and Attendance Supplement Report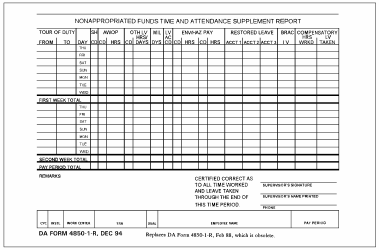 DA Form 4850-1-R - also known as the "Nonappropriated Funds Time And Attendance Supplement Report" - is a Military form issued and used by the United States Department of the Army.
The form - often mistakenly referred to as the DD form 4850-1-R - was last revised on December 1, 1994. Download an up-to-date PDF version of the DA 4850-1-R below or request a copy through the chain of command.
Download DA Form 4850-1-R Nonappropriated Funds Time and Attendance Supplement Report