DA Form 7767 Army Disaster Personnel Accountability and Assessment System, Needs Assessment Survey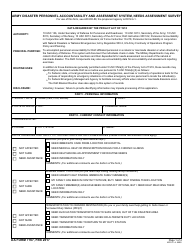 DA Form 7767 or the "Army Disaster Personnel Accountability Assessment System, Needs Assessment Survey" is a Department of the Army-issued form used by and within the United States Military.
The form - often incorrectly referred to as the DD form 7767 - was last revised on February 1, 2017. Download an up-to-date fillable DA Form 7767 down below in PDF-format or look it up on the Army Publishing Directorate website.
ARMY DISASTER PERSONNEL ACCOUNTABILITY AND ASSESSMENT SYSTEM, NEEDS ASSESSMENT SURVEY
For use of this form, see AR 600-86; the proponent agency is DCS G-1.
DATA REQUIRED BY THE PRIVACY ACT OF 1974
10 USC 136, Under Secretary of Defense for Personnel and Readiness; 10 USC 3013, Secretary of the Army; 10 USC
AUTHORITY:
5013, Secretary of the Navy; 10 USC 8013, Secretary of the Air Force; DoD Instruction 3001.02, Personnel Accountability
in Conjunction with Natural or Manmade Disasters; Air Force Instruction 10-218, Personnel Accountability in conjunction
with Natural Disasters or National Emergencies; Army Regulation 500-3, US Army Continuity of Operations Program
Policy and Planning.
To accomplish personnel accountability for DoD affiliated personnel in a natural or manmade disaster or when directed by
PRINCIPAL PURPOSE:
the Secretary of Defense. This system will document the individuals check-in data. The Military Departments may also
collect information about Service members and their dependents for needs assessment as a result of the natural or
manmade disaster. The DoD Components may also use accountability data for accountability and assessment reporting
exercises.
In addition to those disclosures generally permitted under 5 USC 552a(b) of the Privacy Act of 1974, these records may
ROUTINE USES:
specifically be disclosed outside DoD as a routine use pursuant to 5 USC 552a(b)(3) as follows:
To Federal, state, or local governments during actual emergencies, exercises or continuity of operations tests for the
purpose of responding to emergency situations or to allow emergency service personnel to locate the individual(s).
To Federal Emergency Management Agency to facilitate recovery efforts when natural or manmade disasters occur.
The DoD Blanket Routine Uses also apply to this system of records.
DISCLOSURE:
Voluntary; however, failure to provide identifying information may impede processing of this application.
PART I - PERSONAL INFORMATION
1. SURVEY DATE: 2. NAME (Last, First, Middle):
3. EDIPI:
4. DATE OF BIRTH: 5. UIC:
6. COMMAND NAME:
PART II - CURRENT CONTACT INFORMATION
7. ADDRESS/HOTEL:
8. PHONE:
9. CITY, STATE:
10. EMAIL:
FILL IN THE BOXES THAT APPLY TO YOU AND CHECK ALL APPLICABLE BOXES (Please choose Not Affected if none apply)
MEDICAL (Do you or your family need medical help?)
NEED IMMEDIATE CARE FROM A DOCTOR OR HOSPITAL
NOT AFFECTED
NEED MEDICAL HELP OR PRESCRIPTION DRUGS FOR A CHRONIC ILLNESS
NOT SURE
NEED HELP MAKING AN APPOINTMENT FOR ROUTINE NEEDS
NEED ASSISTANCE
NEED INFORMATION ONLY
COMMENTS: (For additional comments use the bottom of the form.)
MISSING FAMILY LOCATOR (Do you need help finding missing family members?)
NEED URGENT HELP FINDING IMMEDIATE FAMILY MEMBER(S)
MY FAMILY HAS BEEN IN CONTACT WITH ME, BUT I NEED HELP FINDING THEIR LOCATION
NOT AFFECTED
MY FAMILY MEMBER(S) HAS/HAVE BEEN IN CONTACT WITH ME, BUT I NEED HELP REACHING THEIR
NOT SURE
LOCATION
NEED ASSISTANCE
NEED INFORMATION ONLY
COMMENTS: (For additional comments use the bottom of the form.)
TRANSPORTATION TO ONWARD DESTINATION (Do you or your family need help getting to Safe Haven or
Permanent Duty Station (PDS)?)
NEED EVACUATION TRANSPORTATION TO SAFE HAVEN, OUT OF THE DISASTER AREA
NOT AFFECTED
NEED TRANSPORTATION TO SAFE HAVEN OR ALTERNATE DUTY LOCATION
NOT SURE
NEED TRANSPORTATION TO RETURN TO MY DUTY STATION
NEED ASSISTANCE
NEED INFORMATION ONLY
COMMENTS: (For additional comments use the bottom of the form.)
Page 1 of 4
DA FORM 7767, FEB 2017
APD LC v1.00ES
Download DA Form 7767 Army Disaster Personnel Accountability and Assessment System, Needs Assessment Survey