Form PACERT Certification of Funding for Personnel Actions - Arkansas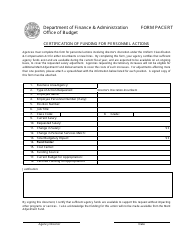 Form PACERT is a Arkansas Department of Finance & Administration - issued form also known as the "Certification Of Funding For Personnel Actions".
A PDF of the latest Form PACERT can be downloaded below or found on the Arkansas Department of Finance & Administration Forms and Publications website.
Department of Finance & Administration
FORM PACERT
Office of Budget
CERTIFICATION OF FUNDING FOR PERSONNEL ACTIONS
Agencies must complete this form for personnel actions involving director's discretion under the Uniform Classification
& Compensation Act for either incumbents or new hires. By completing this form, your agency certifies that sufficient
agency funds exist and are available during the current fiscal year, and are expected to be available on an ongoing
basis, to cover the requested salary adjustment. Agencies requesting discretionary increases will not be eligible for
additional Merit Adjustment Fund disbursements to cover the costs of such increases. For adjustments affecting more
than one position, please attach a spreadsheet with the information below listed for each position. A signed copy of
this form must be attached.
1.
Business Area/Agency:
2.
Type of Action Requested:
Director's Discretion-Incumbent
3.
Employee Name:
4.
Employee Personnel Number (if any):
5.
Position Number:
6.
Job Title:
7.
Class Code:
8.
Grade:
9.
Current Salary:
10. Requested Salary:
11. Change in Salary:
$ 0
12. Change in Personal Services Match:
13. Total Budgetary Impact:
$ 0
14. Fund Center:
15. Cost Center:
16. Funding Source:
17. Current Budget for Appropriation:
18. Certified Funding for Appropriation:
Justification:
By signing this document, I certify that sufficient agency funds are available to support this request without impacting
other programs or services. I also acknowledge that funding for this action will not be made available from the Merit
Adjustment Fund.
Agency Director
Date
Download Form PACERT Certification of Funding for Personnel Actions - Arkansas