VA Form 10-2850c Application for Associated Health Occupations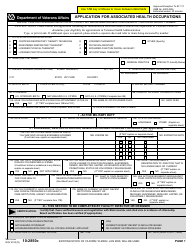 What Is a VA Form 10-2850c?
VA Form 10-2850c, Application for Associated Health Occupations is a form used to apply for a job in the associated healthcare occupations within the U.S. Department of Veterans Affairs and its sub-agencies: the department's central office, the Veterans Health Administration, the Veterans Benefits Administration, and the National Cemetery Administration. The gathered information will be used to assess an applicant's suitability for employment.
The latest version of the form was released by the VA in November 2016 with copies of the June 2006 edition available until exhausted. An up-to-date VA Form 10 2850c fillable version is available for digital filing and download below or can be found on the Department of Veterans Affairs website.
Approved Exception To SF 171
Use TAB key or Mouse to move between data fields
OMB No. 2900-0205
Estimated burden: 30 minutes
APPLICATION FOR ASSOCIATED HEALTH OCCUPATIONS
SEE LAST PAGE FOR PAPERWORK REDUCTION ACT, PRIVACY ACT AND INFORMATION ABOUT DISCLOSURE OF YOUR SOCIAL SECURITY NUMBER.
INSTRUCTIONS: Please submit this application furnishing all information in sufficient detail to enable the Department of Veterans Affairs to
determine your eligibility for appointment in Veterans Health Administration.
Type, or print in ink. If additional space is required, please attach a separate sheet and refer to items being answered by number.
1. OCCUPATION FOR WHICH APPLYING
A
CERTIFIED RESPIRATORY THERAPY TECHNICIAN
E
LICENSED PHARMACIST
OTHER (Specify)
REGISTERED RESPIRATORY THERAPIST
PHYSICIAN ASSISTANT
B
F
C
LICENSED PHYSICAL THERAPIST
G
EXPANDED-FUNCTION DENTAL AUXILIARY
D
LICENSED PRACTICAL/VOCATIONAL NURSE
H
OCCUPATIONAL THERAPIST
2. NAME (Last, First, Middle)
3. APPLICATION FOR (Check one)
GENERAL PRACTICE
SPECIALTY (Identify Below)
4. PRESENT ADDRESS (Include ZIP Code)
STREET ADDRESS 2
APT. NO.
5. TELEPHONE NUMBER (Include Area Code)
5A. RESlDENCE
5B. BUSINESS
STATE
ZIP CODE
COUNTRY
CITY
6. DATE OF BIRTH
7. PLACE OF BIRTH (City)
STATE
COUNTRY
8. SOCIAL SECURITY NUMBER
9A. CITIZENSHIP
9B. COUNTRY OF WHICH YOU ARE A CITIZEN
U.S. CITIZEN BY BIRTH
NATURALIZED U.S. CITIZEN
NOT A U.S. CITIZEN (Complete item 9B)
10A. HAVE YOU EVER FILED APPLICATION FOR APPOINTMENT IN THE VA
10B. NAME OF OFFICE WHERE FILED
10C. DATE FILED
YES
NO
(If "YES" complete items 10B and 10C)
11. WHEN MAY INQUIRY BE MADE OF YOUR PRESENT EMPLOYER
12. DATE AVAILABLE FOR EMPLOYMENT
I - ACTIVE MILITARY DUTY
13A. DATE FROM
13B. DATE TO
13C. SERIAL OR SERVICE NO.
13D. BRANCH OF SERVICE
13E. TYPE OF DISCHARGE
(Explain on
HONORABLE
OTHER
separate sheet)
II - LICENSURE, DEA CERTIFICATION, REGISTRATION AND CLINICAL PRIVILEGES (As applicable)
14C. CURRENT REGISTRATION
14A. LIST ALL STATES/TERRITORIES IN WHICH
(If "NO" explain on separate sheet)
YOU ARE NOW OR HAVE EVER BEEN LICENSED
14B. LICENSE NO.
14D. EXPIRATION DATE
(If not held now, explain on separate sheet)
YES
NO
NOT REQUIRED
15A. ARE YOU FULLY LICENSED IN EVERY STATE
15B. DO YOU HAVE PENDING OR HAVE YOU EVER HAD A
15C. HAVE YOU EVER HELD A
IN WHICH YOU RECEIVED A LICENSE
STATE LICENSE TO PRACTICE REVOKED, SUSPENDED,
REGISTRATION TO PRACTICE THAT IS
(If restricted, limited or probational in any State(s),
DENIED, RESTRICTED, LIMITED, OR ISSUED/PLACED ON A
NO LONGER HELD OR CURRENT
explain on separate sheet)
PROBATIONAL STATUS OR VOLUNTARILY RELINQUISHED
(If "YES" explain on
NO
NOT APPLICABLE
NO
(If "YES" explain on separate sheet)
NO
YES
YES
YES
separate sheet)
16A. NAME THE CERTIFYING BODY
16B. DATE OF MOST RECENT
16C. WHAT IS YOUR REGISTRY/
16D. HAS ACTION EVER BEEN TAKEN AGAINST
FOR YOUR HEALTH
REGISTRATION/CERTIFICATION
CERTIFICATION NUMBER
YOUR CERTIFICATION OR REGISTRATION
OCCUPATION
(Give Month and Year)
(If "YES" explain on
NO
YES
separate sheet)
17C. HAVE ANY OF YOUR STAFF APPOINTMENTS OR
17A. DO YOU CURRENTLY HAVE OR HAVE YOU EVER
17B. NAME OF CURRENT OR MOST RECENT
CLINICAL PRIVILEGES EVER BEEN DENIED,
HAD CLINICAL PRIVILEGES AT ANY HEALTH
INSTITUTION, AGENCY OR
REVOKED, SUSPENDED, REDUCED, LIMITED, OR
CARE INSTITUTION, AGENCY OR ORGANIZATION
ORGANIZATION WHERE HELD
VOLUNTARILY RELINQUISHED
(If "YES" explain on
YES
NO
(If "YES" complete Item 17B)
YES
NO
separate sheet)
III - THIS SECTION TO BE COMPLETED BY FACILITY DIRECTOR OR DESIGNEE
I certify that I have verified licensure and registration with State boards, and cited visa or evidence of citizenship.
CERTIFICATION:
Board certification has been verified (if appropriate).
18. EVIDENCE HAS BEEN CITED IN REGARDS TO:
CERTIFICATION OR REGISTRATION
VISA
NATURALIZED CITIZENSHIP
CURRENT OR MOST RECENT CLINICAL PRIVILEGES
LICENSURE/REGISTRATION FOR ALL STATES LISTED BY APPLICANT
NO CURRENT OR PREVIOUS CLINICAL PRIVILEGES
19A. SIGNATURE OF AUTHORIZED OFFICIAL
19B. TITLE
19C. DATE (MONTH, DAY, YEAR)
VA FORM
10-2850c
PAGE 1
EXISTING STOCK OF VA FORM 10-2850c, JUN 2006, WILL BE USED.
NOV 2016 (R)
Download VA Form 10-2850c Application for Associated Health Occupations
VA Form 10 2850c Instructions
The form is distributed without any filing guidelines. Detailed step-by-step filing instructions can be found below.
How to Fill Out VA Form 10 2850c?
The first box of the form contains the occupations available for application. The applicant must select "Other" and identify the occupation if the desired position is not featured on the list.
Boxes 2 through 12 should contain the applicant's personal information. This includes their name, address, date, and place of birth, SSN and citizenship information. Box 3 is filled in if the candidate is applying for a certain specialty.
If the applicant had ever filed the application before, this should be specified in Boxes 10a through 10c.
Section I describes the applicant's military service. The individual must specify whether or not they have served on active military duty. If the answer is negative, the section should be left blank.
Box 13e requires the type of discharge. Other-than-honorable discharge requires a further explanation on a separate sheet of paper that must be attached to the form.
Section II pertains to licensure: DEA certification, registration, and clinical privileges - if applicable. The applicant has to provide full information on their licenses: where and when the license was obtained, the number of licenses, the current registration, and an expiration date.
Boxes 15a through 15c require information regarding any problems with the license: whether it was restricted, suspended or denied in any state. Boxes 16a through 16d require the certifying body for the current occupation, the most recent certification date, and its number, the specification, and whether or not any action was taken against certification or registration.  Additional sheets may be used to include all the certifications or to explain the information given.
Section III is to be completed by the reviewing agency.
Section IV provides information about liability insurance. It is filled as stated only if applicable.
An applicant's qualifications must be described in Section V. Boxes 22a through 22e specify the name of schools, their address (including ZIP code), the program length, the date of completing the program, and the documents that verify attendance (a diploma or the awarded degree).
Section VI describes the previous professional experience. Column 24a is for listing the names of previous employers, Column 24b is for providing their addresses and Column Box 24c is for specifying the occupation in every case.
The form of contract - either full or part-time - is identified in Column 26d. If the applicant was a part-time employee, the average number of hours per week is given in Column 26e. Column 26f indicates the period of employment for each place of occupation.
Section VII provides space for any additional information. Box 25 is filed by applicants employed under any names other than the one specified in Box 2. Any publications, awards, grants or fellowships should be listed in Box 26.
The qualifications for every candidate must be provided by qualified professionals not related to the applicant by blood or marriage. These people should be listed as references in Section VIII, Boxes 27a through 17d.
Boxes 28 through 37 contain yes-or-no questions that need to be answered by the applicant. These include questions about any previous convictions or imprisonment, being discharged from a position and having Federal debts.
The applicant must certify the provided information by signing the form in Box 38 and once again in the space provided on the fourth page of the form.
VA Form 10-2850c FAQ
How do I save VA Form 10-2850c in a fillable format?
You must have the latest Adobe Acrobat Reader installed on your computer or mobile device in order to save the data within the PDF.
How to electronically sign VA Form 10-2850c?
Signing the VA 10 2850c form is no different from signing other e-fillable documents. There are several options for creating your own electronic signature:
Open the file you want to sign in Adobe Reader and select "Add Signature"
Select "Type" to type your name and have it converted to a signature.
Select "Draw" and draw your signature using your mouse, a touch screen or a stylus.
Select "Image" to upload a scanned and cropped picture of  your actual signature.
VA 10-2850c Related Forms
There are several forms related to VA 10 2850c and intended for specific occupations.
VA Form 10-2850, Application for Physicians, Dentists, Podiatrists, Optometrists & Chiropractors, is filed by specialists applying to one of these positions in Veterans Health Administration to prove their eligibility for appointment.
VA Form 10-2850a, Application for Nurses and Nurse Anesthetists is used by the applicants to describe their education and professional experience and provide professional references to prove their eligibility for appointment.
VA Form 10-2850d, Application for Health Professions Trainee is filed by individuals applying for the VA clinical training program. The data provided in the form may also be used for making pay and benefit determinations or personnel administration if an applicant is employed by the VA.