DA Form 2166-8 Nco Evaluation Report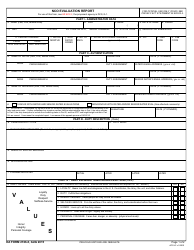 What Is DA Form 2166-8?
DA Form 2166-8, NCO Evaluation Report is a United States Military form used for a Non-commissioned officer (NCO) Evaluation Report. This report is needed for a yearly evaluation of a Non-commissioned officer working within the United States Army and must to be completed by supervising officers.
The latest version of the form - sometimes mistakenly referred to as the DD form 2166 8 - was issued in August 2015 by the Department of the Army. An up-to-date fillable PDF DA Form 2166-8 is available for download below or can be found on the Army Publications Directorate website.
NCO EVALUATION REPORT
FOR OFFICIAL USE ONLY (FOUO) SEE
PRIVACY ACT STATEMENT IN AR 623-3.
For use of this form, see
AR 623-3
; the proponent agency is DCS, G-1.
PART I - ADMINISTRATIVE DATA
a. NAME (Last, First, Middle Initial)
b. SSN
c. RANK
d. DATE OF RANK
e. PMOSC
(
)
f.2 STATUS CODE
g. REASON FOR SUBMISSION
f.1 UNIT
ORG.
STATION
ZIP CODE OR APO,
MAJOR COMMAND
i. RATED
k. NO. OF
m. UIC
n. CMD
o. PSB
h. PERIOD COVERED
j. NON-
l. RATED NCO'S EMAIL ADDRESS
MONTHS
RATED
ENCL
CODE
CODE
(.gov or .mil)
FROM
THRU
CODES
YEAR MONTH DAY
YEAR MONTH DAY
PART II - AUTHENTICATION
a. NAME OF RATER (Last, First, Middle Initial)
SSN
SIGNATURE
DATE (YYYYMMDD)
RANK
ORGANIZATION
DUTY ASSIGNMENT
PMOSC/BRANCH
RATER'S EMAIL ADDRESS (.gov or .mil)
b. NAME OF SENIOR RATER (Last, First, Middle Initial)
SSN
SIGNATURE
DATE (YYYYMMDD)
RANK
PMOSC/BRANCH
ORGANIZATION
DUTY ASSIGNMENT
SENIOR RATER'S EMAIL ADDRESS (.gov or .mil)
SSN
SIGNATURE
DATE (YYYYMMDD)
c. NAME OF REVIEWER (Last, First, Middle Initial)
RANK
DUTY ASSIGNMENT
PMOSC/BRANCH
ORGANIZATION
REVIEWER'S EMAIL ADDRESS (.gov or .mil)
d.
CONCUR WITH RATER AND SENIOR RATER EVALUATIONS
NONCONCUR WITH RATER AND/OR SENIOR RATER EVAL (See attached comments)
e.
RATED NCO: I understand my signature does not constitute agreement or disagreement with the evaluations of the
SIGNATURE
DATE (YYYYMMDD)
rater and senior rater. I further understand my signature verifies that the administrative data in Part I, the rating officials
in Part II, the duty description to include the counseling dates in Part III, and the APFT and height/weight entries in Part
IVc are correct. I have seen the completed report. I am aware of the appeals process of AR 623-3.
PART III - DUTY DESCRIPTION (Rater)
a. PRINCIPAL DUTY TITLE
b. DUTY MOSC
c. DAILY DUTIES AND SCOPE (To include, as appropriate, people, equipment, facilities and dollars)
d. AREAS OF SPECIAL EMPHASIS
e. APPOINTED DUTIES
f. COUNSELING DATES
INITIAL
LATER
LATER
LATER
PART IV - ARMY VALUES/ATTRIBUTES/SKILLS/ACTIONS (Rater)
a. ARMY VALUES. Check either "YES" or "NO". (Bullet Comments are mandatory. Substantive bullet comments are required for "NO" entries.)
YES
NO
1. LOYALTY: Bears true faith and allegiance to the U. S. Constitution, the Army, the unit, and other Soldiers.
Loyalty
2. DUTY: Fulfills their obligations.
V
Duty
3. RESPECT/EO/EEO: Treats people as they should be treated.
Respect
A
Selfless-Service
4. SELFLESS-SERVICE: Puts the welfare of the nation, the Army, and subordinates before their own.
5. HONOR: Lives up to all the Army values.
L
6. INTEGRITY: Does what is right - legally and morally.
U
7. PERSONAL COURAGE: Faces fear, danger, or adversity (physical and moral).
Bullet comments
E
Honor
Integrity
S
Personal Courage
PREVIOUS EDITIONS ARE OBSOLETE.
Page 1 of 2
DA FORM 2166-8, AUG 2015
APD LC v1.02ES
DA Form 2166-8 Instructions
The DA 2166-8 is regulated by the Department of the Army Pamphlet 623–3, Evaluation Reporting System released in November 2015. Filing procedures are as follows:
Part 1 of the form requires basic personal information about the NCO: their name, SSN, rank, contact information and the appropriate rates and codes identifying the NCO.

Part 2, Box A requires the evaluating officer to provide their own personal information needed for completing the form. Boxes B and С require the same information from any senior raters or reviewers who are also participating in submitting the evaluation report. All the reviewers and raters have to sign off the final evaluation report before sending it out.

Parts 3 and 4 consist of the actual evaluation information that is to be supplied. The NCO must provide information about their duty, along with descriptions of their areas of special emphasis and appointed duties, in which the NCO covered during the evaluating year.

Part 4 asks whether the NCO lives and serves in compliance with the Army's core values and beliefs.

The task of the evaluating officer is to decide whether the NCO meets all of the Army's core values and to provide any additional comments about the evaluation.

Part 4 continues with sections where the rater must provide information about the NCO's abilities in five specific areas: confidence, physical fitness and military bearing, leadership, training, responsibility and accountability. There are four possible grades: excellence (exceeding the standard), success (meeting the standard), and need for improvement (some or much).

After providing an evaluation of the specific areas mentioned above, the evaluating officer and senior raters are asked to provide an overall evaluation of the NCO's yearly performance in Part 5.
DA 2166-8 Related Forms