DD Form 2538 Leave Donor Application - Voluntary Leave Transfer Program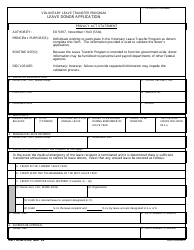 DD Form 2538 - also known as the "Leave Donor Application - Voluntary Leave Transfer Program" - is a Military form issued and used by the United States Department of Defense.
The form - often incorrectly referred to as the DA form 2538 - was last revised on May 1, 1989. Download an up-to-date fillable DD Form 2538 down below in PDF-format or find it on the Department of Defense documentation website.
1. PAYBLOCK NUMBER
VOLUNTARY LEAVE TRANSFER PROGRAM
LEAVE DONOR APPLICATION
PRIVACY ACT STATEMENT
EO 9397, November 1943 (SSN).
AUTHORITY:
PRINCIPAL PURPOSE(S):
Individuals wishing to participate in the Voluntary Leave Transfer Program as donors
complete this form. The information provided is used to validate the donor's
application.
ROUTINE USE(S):
Because the Leave Transfer Program is intended to function government-wide, donor
information may be furnished to personnel and payroll departments of other Federal
agencies.
DISCLOSURE:
Voluntary; however, failure to provide requested information may impede the
validation process.
2. EMPLOYEE IDENTIFICATION
a. NAME (Last, First, Middle Initial)
b. SOCIAL SECURITY NO.
c. POSITION TITLE
d. GRADE/STEP
e. ORGANIZATION
f. SALARY
3. LEAVE DATA
a. ANNUAL LEAVE
b. AS OF
c. ACCRUAL RATE FOR
d. HOURS TO BE EARNED
e. HOURS TO BE
f. "USE OR LOSE"
BALANCE
(YYMMDD)
ANNUAL LEAVE
DURING REMAINDER OF
DONATED
HOURS INCLUDED
LEAVE YEAR
IN 3.e.
4. DESIGNATED LEAVE RECIPIENT
a. NAME (Last, First, Middle Initial)
b. ORGANIZATION
5. EMPLOYEE CERTIFICATION (X and complete all that apply)
In the event the medical emergency of the leave recipient is terminated and it is determined there is sufficient
transferred annual leave to restore to leave donors, I elect that any unused leave be restored as follows:
a. CREDIT IN THE CURRENT LEAVE YEAR.
b. CREDIT EFFECTIVE THE BEGINNING OF THE NEXT LEAVE YEAR.
c. CREDIT TO ANOTHER LEAVE RECIPIENT (Complete (1) - (4))
(1) Name (Last, First, Middle Initial)
(2) Organization
(3) Credit ALL restored leave to recipient designated in (1).
(4) Credit
% to the leave recipient and
% to my leave account designated in 4.a. or b.
d. SIGNATURE
e. DATE SIGNED (YYMMDD)
6. SUPERVISOR APPROVAL
a. SIGNATURE
b. DATE SIGNED (YYMMDD)
DD FORM 2538, MAY 89
Adobe Professional X
Download DD Form 2538 Leave Donor Application - Voluntary Leave Transfer Program