VA Form 5655 Financial Status Report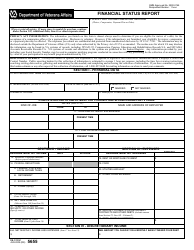 What Is VA Form 5655?
VA Form 5655, Financial Status Report is a document used for claiming a payment plan, the acceptance of a compromise offer, or as a waiver for debt. The information collected via the VA Form 5655 is used by the Department of Veterans Affairs to determine eligibility for the corresponding claim. Individuals eligible to submit the request include veterans, beneficiaries, payees, representatives acting on the debtor's behalf, or the representatives of an estate.
The latest version of the form was released by the VA in June 2009. An up-to-date VA Form 5655 fillable version is available for download below. Filing the form is voluntary. However, if the requested data is not provided it may affect the applicant's eligibility for waiver, compromise or a payment plan.
A printable non-fillable version of the VA 5655 can be found on the Department of Veterans Affairs website. The form - also known as the Financial Status Report Portable Document File - should be printed, filled out with a pen or typewriter, and mailed or faxed.
OMB Approved No. 2900-0165
Respondent Burden: 1 hour
FINANCIAL STATUS REPORT
1. SOCIAL SECURITY NO.
2. FILE NO.
3. SPECIFY WHY YOU ARE COMPLETING THIS FORM
(Waiver, Compromise, Payment Plan or Other)
(Type or print all entries. If more space is needed for any item, continue
under Section VII, Additional Data, Item 36 or attach separate sheet)
PRIVACY ACT INFORMATION: The information you furnish on this form is almost always used to determine if you are eligible for waiver of a debt, for the
acceptance of a compromise offer or for a payment plan. Disclosure is voluntary. However, if the information is not furnished, your eligibility for waiver, compromise
or a payment plan may be affected. The responses you submit are confidential and protected from unauthorized disclosure by 38 U.S.C. 5701. The information may be
disclosed outside the Department of Veterans Affairs (VA) only when authorized by the Privacy Act of 1974, as amended. The routine uses for which VA may disclose
the information can be found in VA systems of records, including 58VA21/22, Compensation, Pension, Education and Rehabilitation Records-VA, and 88VA244,
Accounts Receivable Records-VA. VA systems of records and alterations to the systems are published in the Federal Register. Any information provided by you,
including your Social Security Number, may be used in computer matching programs conducted in connection with any proceeding for the collection of an amount owed
by virtue of your participation in any benefit program administered by VA.
RESPONDENT BURDEN: VA may not conduct or sponsor, and respondent is not required to respond to this collection of information unless it displays a valid OMB
Control Number. Public reporting burden for this collection of information is estimated to average 1 hour per response, including the time for reviewing instructions,
searching existing data sources, gathering and maintaining the data needed, and completing and reviewing the collection of information. If you have comments regarding
this burden estimate or any other aspect of this collection of information, call 1-800-827-0648 for mailing information on where to send your comments.
SECTION I - PERSONAL DATA
4. FIRST-MIDDLE-LAST NAME OF PERSON
5. ADDRESS (Number and street or rural route, City or P.O. Box, State, and ZIP Code)
6. TELEPHONE NO. (Include Area Code)
7. DATE OF BIRTH (MM-DD-YYYY)
8. MARITAL STATUS
MARRIED
NOT MARRIED
9. NAME OF SPOUSE
10. AGE(S) OF OTHER DEPENDENTS
COMPLETE RECORD OF EMPLOYMENT FOR YOURSELF AND SPOUSE DURING PAST 2 YEARS
DATES (MM-YYYY)
KIND OF JOB
NAME AND ADDRESS OF EMPLOYER
FROM
TO
11. YOUR EMPLOYMENT EXPERIENCE
PRESENT TIME
12. YOUR SPOUSE'S EMPLOYMENT
PRESENT TIME
SECTION II - INCOME
SECTION III - EXPENSES
AMOUNT
AVERAGE MONTHLY INCOME
SELF
SPOUSE
AVERAGE MONTHLY EXPENSES
13. MONTHLY GROSS SALARY
18. RENT OR MORTGAGE PAYMENT
$
$
$
(Before payroll deductions)
14. PAYROLL DEDUCTIONS
19. FOOD
A. FEDERAL, STATE AND
20. UTILITIES AND HEAT
LOCAL INCOME TAXES
21. OTHER LIVING EXPENSES
B. RETIREMENT
C. SOCIAL SECURITY
D. OTHER (Specify)
E. TOTAL DEDUCTIONS
(Items 14A through 14D)
15. NET TAKE HOME PAY
(Subtract Item 14E from Item 13)
16. VA BENEFITS, SOCIAL
SECURITY, OR OTHER INCOME
22. MONTHLY PAYMENTS ON INSTALLMENT
(Specify source)
CONTRACTS AND OTHER DEBTS (Include amount
from Section VI, Line 34I - Column E.)
23. TOTAL MONTHLY EXPENSES
17. TOTAL MONTHLY NET
$
$
$
INCOME (Item 15 plus Item 16)
SECTION IV - DISCRETIONARY INCOME
24A. NET MONTHLY INCOME LESS EXPENSES (Item 17 less Item 23)
24B. AMOUNT YOU CAN PAY ON A MONTHLY BASIS TOWARD YOUR DEBT
$
$
VA FORM
5655
JUN 2009 (RS)
VA Form 5655 Instructions
No filling guidelines are distributed with the form. Contact the Department directly if you need help with your VA Form 5655 by calling their toll-free hotline at 1-800-827-0648.  Step-by-step filing instructions can be found below.
How to Fill Out VA Form 5655?
All entries on the 5655 VA Form should be either typed in or handprinted. Item 36 or and additional continuation sheet can be used if any entry requires more space than provided. Filing instructions are as follows:
Item 1 requires specifying the applicant's Social Security Number. The file number is entered in Item 2 and can usually be found in the upper right corner of most letters received from the Debt Management Center.
The reason for completing the form - either Compromise, Payment Plan, Waiver, or Other - should be stated in Item 3.
Section I requires personal information on the debtor. Their full name, address, marital status, telephone number, and date of birth should be provided in Items 4 through 8. Married debtors should indicate the name of the spouse in Item 9. Item 10 requires specifying the ages of other dependents - if any.
Item 11 should contain the debtor's record of employment for the last two years. The spouse's employment experience is described in Item 12.
The income of the debtor and their spouse must be described in Section II. It is obligatory to include income of the debtor's spouse in the document since the VA Debt Management needs to consider the total household income in order to determine the debtor's ability to pay and the amount they are able to pay monthly.  The debtor does need to send proof of income or expenses when submitting the VA 5655. However, if the VA Debt Management officials will have additional questions, they may request some proof later.
Item 13 is for specifying gross monthly salary without payroll deductions.
Items 14A through 14D should describe payroll deductions. The total deductions amount must be indicated in Item 14E. To complete Item 15, it is necessary to subtract the sum in Item 14E from the sum in Item 13.
Any VA benefits received by the debtor or spouse should be identified in Item 16 - Pension, Compensation, or Other Income. This also includes social security payments and part-time job income.
Section III is reserved for describing the debtor's average monthly expenses, including rent, mortgage payments, food expenses, utilities, heat and other living expenses.
Monthly payments on installment contracts and other debts are identified in Item 22. Total monthly expenses are provided in Item 23.
Section IV requires an indication of the net monthly income fewer expenses and the amount the debtor can pay on a monthly basis.
Section V describes all of the debtor's assets and their value. This includes all money kept in bank accounts, cash on hand, cars, boats, real estate, etc.
All debts needed to be paid off in regular monthly installment are listed in Section IV.
Section VII describes any previous cases of legal bankruptcy. For the document to be eligible for further processing, it should be signed and dated by the debtor and their spouse in Section VII.
No payments should be sent with the form when filing the VA 5655 to accompany a request for a compromise offer. If the document is filled out to request a monthly payment plan, the payment may be sent along with the completed form. When requesting a waiver, it is necessary to attach a letter that explains the reason for the request.
Where to Mail VA Form 5655?
The 5655 VA Form and all additional documents can be submitted in three ways:
Via Fax through the number 612-970-5798.
Via Email at dmc.ops@va.gov with the purpose of the form - either Payment Plan, Waiver, Repay, or Repay and Waiver - specified in the subject line.
Via Mail to the VA Debt Management at P. O. Box 11930, St. Paul, MN 55111-0930
It is strongly recommended to keep a copy of each document sent to the Debt Management Center.