GSA Form 873A 2018 Annual Attendance Record (Part-Time Employees)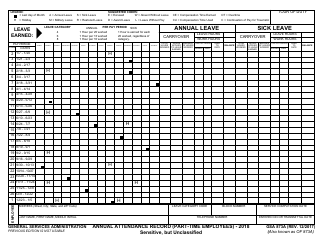 GSA form 873A or the "Annual Attendance Record (part-time Employees)" is a form issued by the General Services Administration.
The form was last revised in December 1, 2017 and is available for digital filing. Download an up-to-date fillable GSA Form 873A in PDF-format down below or look it up on the General Services Administration Forms website.
TOUR OF DUTY
LEGEND:
SUGGESTED CODES:
= Last day of Month
A = Annual Leave
S = Sick Leave
E = Excused
W = Absent Without Leave
CE = Compensation Time Earned
OT = Overtime
H
= Holiday
M = Military Leave
R = Restored Leave
D = Award Leave
L = Leave Without Pay
CU = Compensation Time Used
C = Continuation of Pay for Traumatic
ANNUAL LEAVE
SICK LEAVE
LEAVE CATEGORY
PER PAY PERIOD
LEAVE
ANNUAL
SICK
1 Hour per 20 worked
1 Hour is earned for each
4
LEAVE HOURS
LEAVE HOURS
EARNED:
1 Hour per 13 worked
CARRYOVER
CARRYOVER
6
20 worked, regardless of
WORK HOURS
WORK HOURS
1 Hour per 10 worked
category.
8
HOURS
HOURS
PAY PERIOD
TOTAL
BALANCE
THIS PAY PERIOD
USED
TOTAL
BALANCE
THIS PAY PERIOD
USED
APPLIED
APPLIED
HOURS
OF HOURS
TO
BALANCE
HOURS
OF HOURS
TO
BALANCE
SUNDAY
MONDAY
TUESDAY
WEDNESDAY
THURSDAY
FRIDAY
SATURDAY
SUNDAY
MONDAY
TUESDAY
WEDNESDAY
THURSDAY
FRIDAY
SATURDAY
DATES
TO LEAVE
TO LEAVE
CODE
WORKED
WORKED
DATE
WORKED
WORKED
DATE
EARNED
USED
EARNED
USED
EARNED
EARNED
H
2
1/7 - 1/20
3
1/21 - 2/3
4
2/4 - 2/17
H
5
2/18 - 3/3
6
3/4 - 3/17
7
3/18 - 3/31
8
4/1 - 4/14
9
4/15 - 4/28
10
4/29 - 5/12
11
5/13 - 5/26
H
12
5/27 - 6/9
13
6/10 - 6/23
H
14
6/24 - 7/7
15
7/8 - 7/21
16
7/22 - 8/4
17
8/5 - 8/18
18
8/19 - 9/1
H
19
9/2 - 9/15
20
9/16 - 9/29
H
21
9/30 - 10/13
22
10/14 - 10/27
23
10/28 - 11/10
H
H
24
11/11 - 11/24
25
11/25 - 12/8
26
12/9 - 12/22
H
H
1
12/23 - 1/5
ADDRESS (Street, City, State, and ZIP Code)
LEAVE CATEGORY CODE
BLOCK NUMBER
SERVICE COMPUTATION DATE
LAST NAME, FIRST NAME, MIDDLE INITIAL
TELEPHONE NUMBER
ENTERED ON OR TRANSMITTAL DATE
ANNUAL ATTENDANCE RECORD (PART-TIME EMPLOYEES) - 2018
GENERAL SERVICES ADMINISTRATION
GSA 873A (REV. 12/2017)
PREVIOUS EDITION IS NOT USABLE
Sensitive, but Unclassified
(Also known as OF 873A)
Download GSA Form 873A 2018 Annual Attendance Record (Part-Time Employees)