Form T1157 Election for Child Support Payments - Canada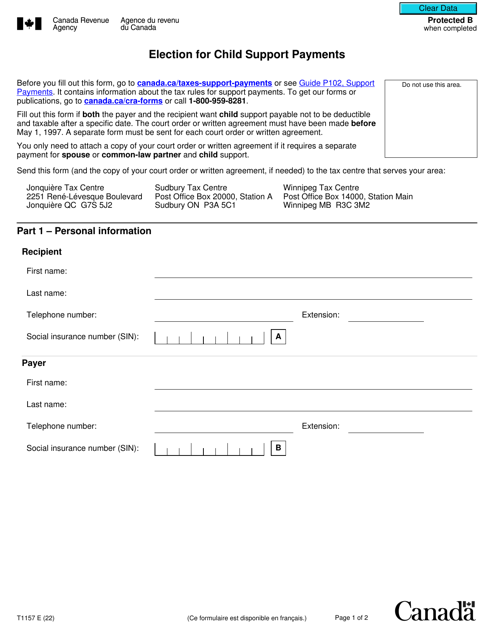 Fill PDF Online
Fill out online for free
without registration or credit card
What Is Form T1157?
Form T1157, Election for Child Support Payments, is a legal document that needs to be completed to register an election for child support payments in Canada. It is used if the child support payee and the recipient agree that child support will not be deductible and taxable after the date that they will select.
The Election for Child Support Payments Form was issued by the Canadian Revenue Agency (CRA) and last revised on January 1, 2022. A fillable Form T1157 is available for download below
Due to current tax regulations, a child support payer is not allowed to claim a deduction for making child support payments, and a child support recipient is not going to have these payments taxed, as a regular income would have been taxed.
Form T1157 Instructions
Form T1157 consists of two parts. The first part will require personal information for both the payee and the person receiving payments. This includes:
Their full first and last names.
Phone numbers, including extensions if applicable.
Social Insurance Numbers (SIN).
The second part contains information on the election of a child support order which includes:
Date when the payable child support will stop being deductible and taxable.
The amount of child support payments under the current new agreement.
The date when child support payments made under this order will be stopped.
The date and signatures of both the payee and the recipient of the child support referred to in Form T1157, stating the election for child support not to be taxable or deductible after a selected date.
There must be a separate Form T1157 used for each child support order. After an election order has been accepted by the Canadian Revenue Agency, it will follow the current tax rules that came into effect in April 1997. An accepted order cannot be reversed. Although the CRA no longer recognizes child support payments made as deductions or income, all child support paid or received has to be reported on the personal annual tax return declaration.
---
Related Forms and Topics:
Download Form T1157 Election for Child Support Payments - Canada