USCIS Form I-912 Request for Fee Waiver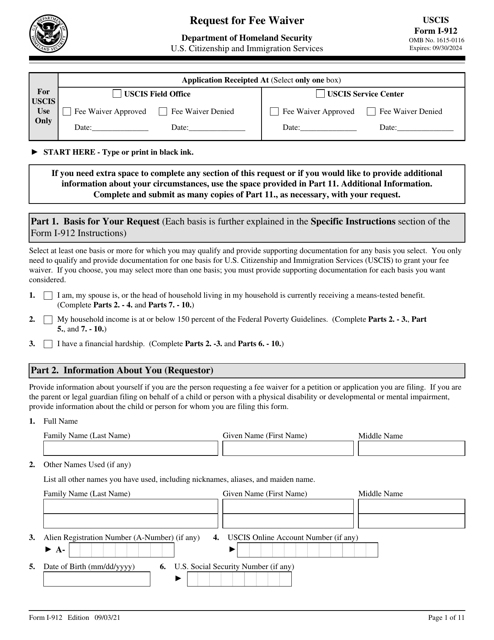 Fill PDF Online
Fill out online for free
without registration or credit card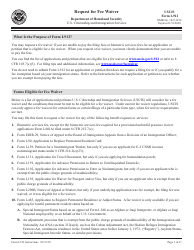 Instructions for USCIS Form I-912 Request for Fee Waiver
What Is Form I-912?
Form I-912, Request for Fee Waiver, is a supplemental document sent to the U.S. Citizenship and Immigration Services (USCIS) when an applicant or petitioner is unable to pay the biometric services or filing fees for a particular form.
Alternate Names:
USCIS Form I-912;
I-912 Fee Waiver.
The latest version of the form was issued on September 3, 2021, with all previous editions obsolete. You can download a fillable I-912 PDF through the link below. If you do not have enough assets or do not earn much money at the moment of filing, you can ask the USCIS to let you file your documentation for free. Once you prove you do not have the financial resources by meeting the eligibility criteria, the USCIS will continue processing your petition or application.
Form I-912 Instructions
I-912 Fee Waiver instructions are as follows:
Select a basis for your request to show you qualify for a fee waiver. This will determine which parts of the form you are required to fill out. You may indicate that you, your spouse, or the head of your household is a recipient of a means-tested benefit, your household income is at or below 150 percent of the I-912 poverty guidelines, or you have a financial hardship.
Enter your personal details - name, alien registration number, USCIS account number, date of birth, social security number, and marital status.
Record the numbers of the petitions and applications for which you and your family members need a fee waiver. You can find the list of forms eligible for a fee waiver in the official instructions for Form I-912.
Provide information about the means-tested benefits your family receives - the name of the recipient, their relationship to you, type of the benefit, dates when it was awarded and when it expires or must be renewed.
If your income is low, state your employment status or the date you became unemployed, add information about your spouse and the size of your household, and record the annual income of all family members who are part of your household, including financial support.
If you are in a difficult situation that forced you to incur debts, expenses, or loss of income, for instance, job loss, medical expenses, or eviction, describe the situation in full detail. List the cash and value of assets you can convert to cash (stocks, bonds, bank accounts) and enter the amount of total monthly liabilities and expenses.
Confirm you have read and understood the document in its entirety, certify the statements in the form are true and correct, add your contact information, sign and date the form. This document also requires the signatures of all your family members. If you were helped to fill out the request by an interpreter or preparer, for example, a legal guardian, they must also provide their certification and signatures.
If you have to write down any additional information within the document, use the last page of the form. It is allowed to attach as many copies of this page as needed.
Where to File Form I-912?
Mail the I-912 Fee Waiver to the address indicated in the application or petition for which you are requesting a fee waiver. It cannot be filed after you have already sent the main form to the USCIS - instead of enclosing the money order or check, submit the fee waiver along with your application. Do not forget to complete the forms in full and attach supporting documentation that solidifies your claim.
Download USCIS Form I-912 Request for Fee Waiver