Form MV-1 Motor Vehicle Title Application - Georgia (United States)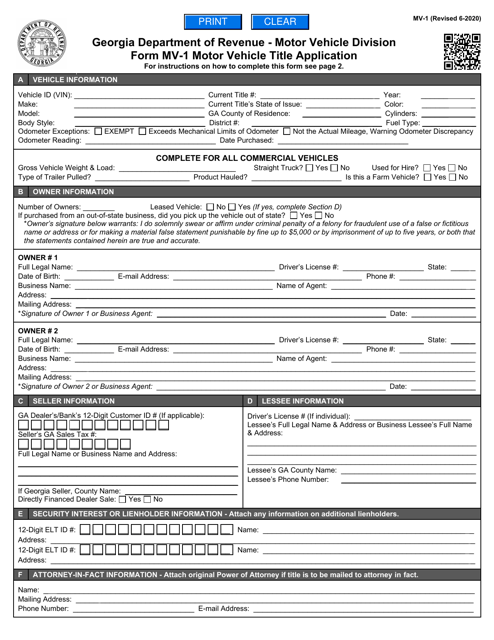 Fill PDF Online
Fill out online for free
without registration or credit card
What Is a Georgia Title Application?
Form MV-1, DOR Motor Vehicle Title Application, is a legal document completed by Georgia vehicle owners to apply for a new certificate of title. Once you have purchased a vehicle and completed the transaction, you have thirty calendar days to title and register a vehicle purchased from a dealership or after you establish a residency in Georgia. If you bought a vehicle from an individual or business (other than a dealership), you have seven business days to apply for a new title and register a vehicle acquired in a private sale.
Alternate Names:
GA MV-1 Form;
Georgia Title Application Form.
This form was released by the Motor Vehicle Division, a component of the Georgia Department of Revenue. The latest version of the form was issued in June 1, 2020 with all previous editions obsolete.
You can download a fillable Georgia Motor Vehicle Title Application through the link below.
How to Fill Out GA MV-1?
Provide the following details in the Georgia Title Application Form:
Describe the vehicle. Indicate its identification number, make, model, body style, current title number and state of issue, year, color, cylinders, and fuel type. Record your county of residence and district number. Write down the current odometer reading or check the applicable odometer exceptions. State the date you purchased a vehicle;
If you bought a commercial vehicle, enter its gross vehicle weight and load. Indicate its type of trailer pulled and the product it hauled. If it is a straight truck, it is used for hire, or you purchased a farm vehicle, check the appropriate boxes;
Enter the number of owners. State if the vehicle is leased. Provide the owner's personal and contact details - full name, driver's license number, date of birth, email address, phone number, and addresses. If the owner is a business, write down its business name and identify its agent. Sign the form and state the actual date. The application allows you to add two owners;
Provide the seller information - Georgia dealer's or bank's twelve-digit customer ID number, full name or business name and address. Indicate the county of the seller and state whether it was a directly financed dealer sale;
If the vehicle was leased, you need to write down the lessee information - driver's license number, full name and address, name of the county, and phone number;
If applicable, add the security interest or lienholder information - twelve-digit Electronic Lien and Title ID number, name and address;
If you want the title mailed to the attorney-in-fact, attach the original power of attorney and enter their name, mailing address, phone number, and email address.
Once the application is completed, submit it to your local County Tag office along with the original title, bill of sale, and manufacturer's certificate of origin.
You may also mail a Georgia Title Application to the Georgia Department of Revenue/Motor Vehicle Division, P.O. Box 740384, Atlanta, GA 30374-0381, with a check or money order to pay an $18 fee.
Other Revision
Download Form MV-1 Motor Vehicle Title Application - Georgia (United States)