VA Form 10-2410 Agreement to Provide Home Care to Patient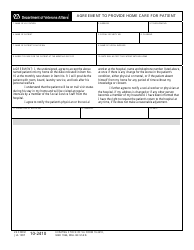 VA Form 10-2410 or the "Agreement To Provide Home Care To Patient" is a form issued by the United States Department of Veterans Affairs.
The latest fillable PDF version of the VA 10-2410 was issued on July 1, 1997 and can be downloaded down below or found on the Veterans Affairs Forms website.
AGREEMENT TO PROVIDE HOME CARE FOR PATIENT
1. NAME OF VA STATION
2. ADDRESS
3. TELEPHONE NO.
4. NAME OF PATIENT
5. SOCIAL SECURITY NO.
6. CLAIM NO.
7. NAME OF PATIENT'S PHYSICIAN
8. NAME OF SOCIAL WORKER
9. AGREE TO CARE FOR THE PATIENT AT THE MONTHLY RATE OF
10. DATE WILL ACCEPT THE PATIENT INTO MY HOME
AGREEMENT: I, the undersigned, agree to accept the above
worker at the hospital, name and telephone number listed above,
named patient into my home on the date indicated in Item No.
at once if there is any change for the worse in the patient's
10 at the monthly rate shown in Item No. 9. I will provide the
condition, either physical or mental, or if the patient absent
patient with room, board, laundry service, and look after his
himself from my home for any period of time without my
personal welfare.
knowledge or consent.
I understand that the patient will be on trail visit status
I further agree to notify a social worker or physician at
during his stay in my home and will be visited at regular
the hospital, if my address is changed or if any other person
intervals by a member of the Social Service Staff from the
becomes a member of my household. I have been informed that
hospital.
I have the right to request the patient's return to the hospital at
I agree to notify the patient's physician or the social
any time, if he does not make a reasonable adjustment.
11. SIGNATURE OF APPLICANT
12. ADDRESS
13. DATE
VA FORM
EXISITNG STOCK OF VA FORM 10-2410,
10-2410
JUL 1997
MAR 1966, WILL BE USED.
Download VA Form 10-2410 Agreement to Provide Home Care to Patient