DD Form 2770 Abbreviated Medical Record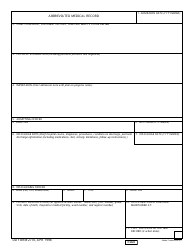 DD Form 2770 - also known as the "Abbreviated Medical Record" - is a United States Military form issued by the Department of Defense.
The form - often incorrectly referred to as the DA form 2770 - was last revised on April 1, 1998. Download an up-to-date fillable PDF version of the DD 2770 below or request a copy through the chain of command.
1. ADMISSION DATE (YYYYMMDD)
ABBREVIATED MEDICAL RECORD
2. CHIEF COMPLAINT, PERTINENT HISTORY, AND PERTINENT SYSTEM REVIEW
3. PHYSICAL EXAMINATION (Including pertinent positives and negatives)
4. IMPRESSION (Enter admission note with plan on progress notes)
5. ADMITTING OFFICER
a. SIGNATURE
b. DATE SIGNED (YYYYMMDD)
6. DISCHARGE NOTE (Brief hospital course, diagnoses, procedures, condition on discharge, pertinent
7. DISCHARGE DATE (YYYYMMDD)
discharge information (including medications, diet, activity limitations, follow-up instructions).)
8. DISCHARGING OFFICER
a. NAME (Last, First, Middle Initial)
b. GRADE
c. TITLE
d. SIGNATURE
9. PATIENT IDENTIFICATION (For typed or written entries: Name (last, first, middle), grade,
10. OUTPATIENT/HEALTH RECORD
SSN, date of birth, hospital or medical facility, ward number, and register number)
MAINTAINED AT:
11. COPY PLACED IN OUTPATIENT
RECORD (X when done)
DD FORM 2770, APR 1998
Adobe Professional 8.0
Reset
1. ADMISSION DATE (YYYYMMDD)
ABBREVIATED MEDICAL RECORD
2. CHIEF COMPLAINT, PERTINENT HISTORY, AND PERTINENT SYSTEM REVIEW
3. PHYSICAL EXAMINATION (Including pertinent positives and negatives)
4. IMPRESSION (Enter admission note with plan on progress notes)
5. ADMITTING OFFICER
a. SIGNATURE
b. DATE SIGNED (YYYYMMDD)
6. DISCHARGE NOTE (Brief hospital course, diagnoses, procedures, condition on discharge, pertinent
7. DISCHARGE DATE (YYYYMMDD)
discharge information (including medications, diet, activity limitations, follow-up instructions).)
8. DISCHARGING OFFICER
a. NAME (Last, First, Middle Initial)
b. GRADE
c. TITLE
d. SIGNATURE
9. PATIENT IDENTIFICATION (For typed or written entries: Name (last, first, middle), grade,
10. OUTPATIENT/HEALTH RECORD
SSN, date of birth, hospital or medical facility, ward number, and register number)
MAINTAINED AT:
11. COPY PLACED IN OUTPATIENT
RECORD (X when done)
DD FORM 2770, APR 1998
Adobe Professional 8.0
Reset