DA Form 1613 Records Cross Reference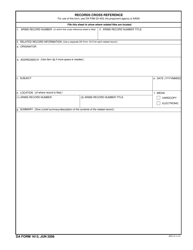 DA Form 1613 - also known as the "Records Cross Reference" - is a Military form issued and used by the United States Department of the Army.
The form - often mistakenly referred to as the DD form 1613 - was last revised on June 1, 2008. Download an up-to-date fillable PDF version of the DA 1613 below or request a copy through the chain of command.
RECORDS CROSS REFERENCE
For use of this form, see DA PAM 25-403; the proponent agency is AASA.
File this sheet to show where related files are located.
1. ARIMS RECORD NUMBER
(in which this cross reference sheet is filed)
2. ARIMS RECORD NUMBER TITLE
3. RELATED RECORD INFORMATION
(Use a separate DA Form 1613 for each related record.)
a. ORIGINATOR
(s) (Use Item 3g if more space is needed.)
b. ADDRESSEE
c. SUBJECT
d. DATE (YYYYMMDD)
(of where record is filed.)
e. LOCATION
f. MEDIA
(1) ARIMS RECORD NUMBER
(2) ARIMS RECORD NUMBER TITLE
HARDCOPY
ELECTRONIC
g. SUMMARY
(Give a brief summary/description of the contents of the related record.)
DA FORM 1613, JUN 2008
APD LC v1.01