DD Form 2215 Reference Audiogram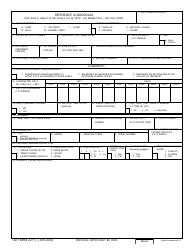 What Is DD Form 2215?
DD Form 2215, Reference Audiogram serves as a record of initial audiometric test results for comparison with the results of later test. This particular form is used to record the initial testing. An up-to-date DD Form 2215 fillable version is available for e-filing and download below. First-time filers are advised to refer to DoD Component Instructions for additional filing tips.
Periodic tests are recorded on the DD Form 2216, Hearing Conservation Data. This form is subject to the Privacy Act of 1974 - use a blanket PAC when filing (DD Form 2005, Privacy Act Statement).
The latest version of the form - sometimes confused with the DA Form 2215 - was released by the Department of Defense in January 2000 with all previous editions still available for use. The form is originally distributed by the Executive Services Directorate and is unclassified and approved for public release.
1. ZIP CODE/APO/FPO/PAS
REFERENCE AUDIOGRAM
(This form is subject to the Privacy Act of 1974 - use Blanket PAS - DD Form 2005)
2. DOD COMPONENT
3. SERVICE COMPONENT
A - ARMY
F - AIR FORCE
1 - OTHER
R - REGULAR
G - NATIONAL GUARD
N - NAVY
M - MARINE CORPS
V - RESERVE
1 - OTHER
4. SOCIAL SECURITY NUMBER
6. DATE OF BIRTH
7. SEX
5. NAME (Last, First, Middle Initial)
(YYYYMMDD)
M - MALE
F - FEMALE
8. PAY GRADE,
9. PAY GRADE,
10. SERVICE DUTY
11. MAILING ADDRESS OF ASSIGNMENT
UNIFORMED
CIVILIAN
OCCUPATION CODE
SERVICES
12. LOCATION - PLACE OF WORK
13. MAJOR COMMAND
14. DUTY TELEPHONE (Include area code)
AUDIOMETRY
15. REASON FOR CONDUCTING AUDIOGRAM
1 - REFERENCE ESTABLISHED PRIOR TO
2 - REFERENCE ESTABLISHED FOLLOWING
3 - REFERENCE RE-ESTABLISHED AFTER
INITIAL DUTY IN HAZARDOUS NOISE AREAS
EXPOSURE IN NOISE DUTIES
FOLLOW-UP PROGRAM
LEFT
RIGHT
16. AUDIOMETRIC DATA
RE: ANSI S3.6 - 1989
500
1000
2000
3000
4000
6000
500
1000
2000
3000
4000
6000
17. DATE OF AUDIOGRAM
(YYYYMMDD)
18. MEETS REFERRAL CRITERIA
21. EAR, NOSE, AND THROAT PROBLEM
19. MILITARY TIME OF DAY
20. HOURS SINCE LAST
AT TIME OF TEST
(Optional)
NOISE EXPOSURE
1 - NO
1 - NO
2 - YES
3
- UNKNOWN
2 - YES
22. EXAMINER
a.
NAME
(Last, First, Middle Initial)
b. TRAINING CERTIFICATION
c.
SERVICE
DUTY
d. OFFICE SYMBOL
NUMBER
OCCUPATION CODE
e. LAST ELECTROACOUSTIC
23. AUDIOMETER
CALIBRATION DATE
a.
TYPE
b. MODEL
c.
MANUFACTURER
d. SERIAL NUMBER
(YYYYMMDD)
1 - MANUAL
2 - SELF-RECORDING (Automatic)
3 - MICROPROCESSOR
24. PERSONAL HEARING PROTECTION
c. DOUBLE
d. GLASSES WORN
e.
FREQUENCY
GLASSES
a.
TYPE
ISSUED
b. SIZE EARPLUGS
4 - EAR CANAL CAPS
PROTECTION
(Including goggles)
WORN
5- NOISE MUFFS
1 - SINGLE FLANGE (VS1R)
USED
L
R
1 - XS 4 - L
1 - ALWAYS
2 - TRIPLE FLANGE
6 - OTHER
2 - S
5 - XL
2 - SELDOM
1 - NO
1 - NO
7 - NONE
3 - HAND FORMED EARPLUG
3 - M
3 - N/A
2 - YES
2 - YES
25. REMARKS (Include exposure data)
DD FORM 2215, JAN 2000
PREVIOUS EDITION MAY BE USED.
Reset
Adobe Professional 7.0
How to Fill Out DD Form 2215?
The form consists of two pages with the DoD-released filing guidelines provided on the second page.  DD Form 2215 instructions are as follows:
Block 1 is for the ZIP code/APO/FPO/PAS of the location where the testing is performed.
Block 2 is for the DOD component of the individual. Block 3 is for their service component.
Blocks 4 and 5 require a social security number and the full name of the individual being tested. Their date of birth and gender is indicated in Blocks 6 and 7.
If the individual is a servicemember, their pay grade is specified in Block 8. Block 9 is for the civilian employee's pay grade. The occupation code is indicated in Block 10. The mailing address of the assignment goes to Block 11.
Block 12 - Place of Work - requires specifying the location where the individual is routinely exposed to hazardous noise (including building number). Box 13 is for the major command abbreviation.
Block 14 is intended for the individual's duty telephone number.
The reason for the audiometric testing is identified in Block 15 by checking the appropriate box.
Block 16 contains the results of each testing. The date the audiometric test is given is entered in Block 17.
Block 18 should indicate whether the individual meets their referral DoD component criteria. The time of the testing is indicated in Block 19 if it is necessary.
The time period in hours since the last noise exposure before the audiogram is indicated in Block 20.
Any problems with the nose or the throat the individual experiences at the time of the test should be recorded in Block 21.
Block 22 is for the information about the examiner. The required information includes their full name, training certification number, service duty occupation code, and office symbol.
Block 23 should provide information on the audiometer (its model, type, manufacturer, serial number and the date of the last calibration).
Block 24 requires the data about the hearing protection issued to the individual - if any. Any additional information (including the individual's 8-hour TWA noise exposure - if known) can be listed in Block 25.