DD Form 108 Application for Retired Pay Benefits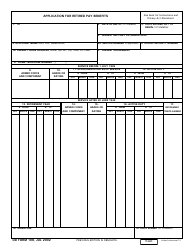 What Is DD Form 108?
DD Form 108, Application for Retired Pay Benefits is a document used by members and ex-members of the Reserve Components to apply for retired pay at the age of 60. The data provided in the application is reviewed to determine eligibility.
The DD Form 108 – sometimes incorrectly referred to as the DA Form 108 – was last revised by the Department of Defense in July 2002. A printable form DD 108 is available for download and digital filing below or can be found on the Executive Services Directorate website.
A list of Armed Forces Headquarters addresses is provided below. The application must be forwarded to the branch of the Armed Forces in which the applicant retired from.
Army: Commander United States Army Reserve Personnel Center 9700 Page Boulevard, St. Louis, MO 63132-5200;
Navy: Commanding Officer Naval Reserve Personnel Center (Code N221) 4400 Dauphine St. New Orleans, LA 70149-7800;
Air Force: the United States Air Force Military Personnel Center (AFPMPR) Building 499C Randolph Air Force Base, TX 78148-9997;
Marine Corps: Commandant United States Marine Corps (Code MMSR-5) Washington, DC 20380-0001;
Coast Guard: Commandant United States Coast Guard (SP-4) Washington, DC 20593-0001.
See back for Instructions and
APPLICATION FOR RETIRED PAY BENEFITS
Privacy Act Statement.
1. TO
2. DATE OF BIRTH
3. DATE RETIRED PAY TO
(YYYYMMDD)
BEGIN
(YYYYMMDD)
4. HIGHEST MILITARY PAYGRADE HELD
5. APPLICANT NAME
6a. SERVICE NUMBER
b. SOCIAL SECURITY NUMBER
(Last, First, Middle Initial)
(If applicable)
7a. PRESENT HOME ADDRESS
8. PRESENT ASSIGNMENT
(Street, Apt No., City, State, ZIP Code)
(
)
b. HOME TELEPHONE NUMBER
SERVICE BEFORE 1 JULY 1949
11. APPROXIMATE DATES OF SERVICE
12. ACTIVE DUTY
9.
10.
ARMED FORCE
GRADE OR
a. FROM
b. TO
a. FROM
b. TO
AND COMPONENT
RATING
DAY
MONTH
YEAR
DAY
MONTH
YEAR
DAY
MONTH
YEAR
DAY
MONTH
YEAR
SERVICE AFTER 30 JUNE 1949
13. RETIREMENT YEAR
16. ACTIVE DUTY
14.
15.
17.
ARMED FORCE
GRADE OR
a. FROM
b. TO
a. FROM
b. TO
RETIREMENT
AND COMPONENT
RATING
POINTS EARNED
DAY
MONTH
YEAR
DAY
MONTH
YEAR
DAY
MONTH
YEAR
DAY
MONTH
YEAR
18. SIGNATURE
19. DATE SIGNED
(YYYYMMDD)
DD FORM 108, JUL 2002
PREVIOUS EDITION IS OBSOLETE.
Adobe Professional 7.0
Reset
How to Fill out DD Form 108?
The DD 108 Form must be hand-printed or typewritten. The completed, signed, dated and witnessed documents should be submitted no less than 90 days before the applicant's 60 th birthday.
Indicate the appropriate address from the list provided above in Section 1. Section 2 requires your date of birth in the year/month/day format. In Box 3, enter your birthday at age 60 or Retirement Pay Eligibility Date (RPED) if you have one.
Indicate your highest Armed Forces paygrade held in rank/E-grade format in Box 4 and name in Box 5. Box 6b requires a SSN and Box 6a should be left blank.
Provide a mailing address in Box 7a. That can be either a home address or a P.O. Box number.
Enter a home or cell phone number in Box 7b. Provide the designation of your present organization in Box 8.
In case you attach an AHRC Form 249-2-E to the application, you do not have to fill in Box 9 through 17. Just sign the document and enter the date of signing in Box 19.
Detailed step-by-step DD Form 108 instructions can also be found on the second page of the form.
Filling out the DD Form 108 for Navy Reserves requires following the same steps described above. The retiree must enter the correct service (serial) number in Box 6a and enter the appropriate Armed Force and component in Box 9 for periods of service covered in Box 11.
The form must be submitted in duplicate for Naval personnel.
Retired Pay Application Checklist
Several more forms are required to be submitted along with the Application for Retired Pay. All of them must be provided along with the retirement package retirees are given when leaving the Armed Forces. The package should include:
SF Form 1199A, Direct Deposit Sign-Up;
AHRC Form 249-2-E, Chronological Statement of Retirement Points (optional).