VA Form 21-686c Declaration of Status of Dependents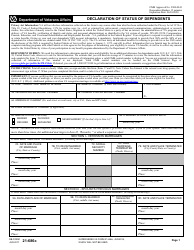 What Is a VA Form 21-686c?
VA Form 21-686c, Declaration of Status of Dependents is a form used for applying for additional VA disability compensation benefits for a dependent if a veteran has a service-related disability rating of at least 30%. A spouse, child, stepchild, and a parent or parents are considered to be dependents.
The latest version of the form was released by in June 2017 and superseded the now obsolete June 2014 edition. An up-to-date VA Form 21-686c fillable version is available for digital filing and download below or can be found on the Department of Veterans Affairs website.
The form describes the relationship between a veteran and dependent and specifies a dependent's status which - in turn - helps the authorities identify the benefits applicable in a particular case. Any changes in status - like the birth or adoption of a new child, a death, a marriage, a divorce, a child's marriage or college graduation - must be reported to the VA via the VA Form 21-686c. The VA cannot make adjustments to dependents' status or add and remove dependents automatically without being informed of the changes.
The Social Security Number of newborn and adopted children must be specified in the form. For this reason, a veteran may have to wait for a couple of months before being able to add a new dependent.
A veteran may also opt for changing the status of dependents electronically via eBenefits - electronic applications may be processed quicker. There is no need to file both the VA 21-686c and the electronic form at the same time. Both options are equal, and double applications may complicate and prolong the proceedings.
What Is VA Form 21 686c Used For?
The VA 21-686c is applicable for claiming increased payments if a veteran with a 30% disability rating has one or several dependents in their care. Another purpose of the form is to notify the VA about any changes that happen to dependents so that their eligibility for the extra compensation can be revised according to the new circumstances.
The form can be filed even if the veteran is in the process of receiving their 30% rating. All information submitted via the form will be kept in their VA Claims File.
OMB Approved No. 2900-0043
Respondent Burden: 15 minutes
Expiration Date: 06/30/2020
DECLARATION OF STATUS OF DEPENDENTS
Privacy Act Information: VA will not disclose information collected on this form to any source other than what has been authorized under the Privacy Act of 1974 or
Title 38, Code of Federal Regulations 1.576 for routine uses (i.e., civil or criminal law enforcement, congressional communications, epidemiological or research
studies, the collection of money owed to the United States, litigation in which the United States is a party or has an interest, the administration of VA programs and
delivery of VA benefits, verification of identity and status, and personnel administration) as identified in the VA system of records, 58VA21/22/28, Compensation,
Pension, Education, and Vocational Rehabilitation and Employment Records - VA, published in the Federal Register. Your obligation to respond is required to obtain
or retain benefits. Giving us your and your dependents' SSN account information is mandatory. Applicants are required to provide their SSN and the SSN of any
dependents for whom benefits are claimed under Title 38 USC 5101 (c)(1). The VA will not deny an individual benefits for refusing to provide his or her SSN unless
the disclosure of the SSN is required by Federal Statute of law in effect prior to January 1, 1975, and still in effect. Information that you furnish may be utilized in
computer matching programs with other Federal or state agencies for the purpose of determining your eligibility to receive VA benefits, as well as to collect any amount
owed to the United States by virtue of your participation in any benefit program administered by the Department of Veterans Affairs.
RESPONDENT BURDEN: We need this information to determine marital status and eligibility for an additional allowance for dependents under 38 U.S.C. 1115. Title
38, United States Code, allows us to ask for this information. We estimate that you will need an average of 15 minutes to review the instructions, find the information
and complete this form. VA cannot conduct or sponsor a collection of information unless a valid OMB control number is displayed. You are not required to respond to a
collection of information if this number is not displayed. Valid OMB control numbers can be located on the OMB Internet Page at
www.reginfo.gov/public/do/PRAMain. If desired, you can call 1-800-827-1000 to get information on where to send comments or suggestions about this form.
INSTRUCTIONS: Print all answers clearly. Make sure you sign and date this form (Items 17 and 18). Note: Unless the claimant is the veteran's surviving spouse, the
veteran must sign in Item 17. When you have completed this form, mail it or take it to a VA regional office.
IMPORTANT: If you are certifying that you are married for the purpose of VA benefits, your marriage must be recognized by the place where you and/or your
spouse resided at the time of marriage, or where you and/or your spouse resided when you filed your claim (or a later date when you became eligible for benefits)
(38 U.S.C. § 103(c)). Additional guidance on when VA recognizes marriages is available at http://www.va.gov/opa/marriage/.
(If other than veteran)
1A. FIRST - MIDDLE - LAST NAME OF VETERAN
2A. NAME OF CLAIMANT
3. FILE NUMBER
1B. VETERAN'S SOCIAL SECURITY NUMBER
2B. CLAIMANT'S SOCIAL SECURITY NUMBER
C-
(No. and street or rural route, city or P.O., State and ZIP Code)
4A. ADDRESS OF CLAIMANT
(If applicable)
4B. E-MAIL ADDRESS OF CLAIMANT
(Check one)
5A. MARITAL STATUS
5B. IF MARRIED, SPOUSE'S DATE OF BIRTH
(If checked, skip to Item 14)"
MARRIED
DIVORCED
NEVER MARRIED "
month day year
WIDOWED
SEPARATED
NOTE: You must furnish complete information about all your and your current spouse's previous marriages. If you or your spouse have been married
more than three times, list additional marriages in Item 16, "Remarks, " or attach a separate sheet.
SECTION I - VETERAN'S MARRIAGES
(Including current marriage)
6. HOW MANY TIMES HAVE YOU BEEN MARRIED?
7D. HOW
7A. DATE AND PLACE
7C. SOCIAL
7B. TO WHOM MARRIED
MARRIAGE
7E. DATE AND PLACE TERMINATED
OF MARRIAGE
SECURITY
(City/County/State or Country)
(First, middle, last name)
TERMINATED
(City,/State or Country)
NUMBER
(Death, Divorce)
month day year
Place:
month day year
month day year
Place:
Place:
month day year
month day year
Place:
Place:
SECTION II - SPOUSE'S PREVIOUS MARRIAGES
8. HOW MANY TIMES HAS THE VETERAN'S CURRENT SPOUSE OR SURVIVING SPOUSE BEEN MARRIED? (Including current marriage)
9C. HOW MARRIAGE
9B. TO WHOM MARRIED
9A. DATE AND PLACE OF MARRIAGE
9D. DATE AND PLACE TERMINATED
TERMINATED
(First, middle, last name)
(Death, Divorce)
month day year
month day year
Place:
Place:
month day year
month day year
Place:
Place:
month day year
month day year
Place:
Place:
VA FORM
21-686c
SUPERSEDES VA FORM 21-686c, JUN 2014,
Page 1
JUN 2017
WHICH WILL NOT BE USED.
VA Form 21-686c Instructions
The form is made up of two pages with no filing guidelines provided in the form. Complete filing instructions are provided below.
How to Fill Out VA Form 21-8940?
Item 1 is for the veteran's name. If another person acts as a claimant, their name is specified in Item 2a. Items 1b and 2b should contain the veteran's or the other claimant's Social Security Numbers.
Item 3 is for the number of the VA file. Item 4 should include a claimant's postal and e-mail addresses.
The applicable marital status is marked in Item 5a. If "never married" is chosen the claimant has to leave Items 6 through 13 blank, married claimants enter their current spouse's date of birth in Item 5b.
Section I summarizes the information about a veteran's and their spouse's previous marriages. The total number of marriages - including the current one - is provided in Item 6.
Items 7a through 7e are a chart for the information about the veteran's marriages. The required information includes the dates and places of each marriage, the name of the person to whom a veteran was married, the circumstances of the termination of marriage, and the dates and places of termination.
Section II is for the information about the previous marriages of a veteran's current spouse. Item 8 is for the whole number of marriages. Items 9a through 9d are identical to Items 7a through 7e.
Items 10 through 13 contain several questions about the veteran's spouse. Those living with their spouses must complete Item 14a. If a veteran and their spouse live separately, the spouse's address is given in Item 12, and any amounts of money they receive from the veteran is specified in Item 13.
Section III is for the information about any unmarried children a veteran may have. Items 14a through 14c contain their personal information. This includes their names, dates, and places of birth, and Social Security Numbers. Items 14d through 14i give more information about each child and are completed if applicable. If any child is identified as "seriously disabled" in Item 14h, all supporting medical evidence should be attached to the form.
Any step children related to the spouse must be listed in Item 14j. The information about children who do not live with their veteran parent is entered in Items 15a, 15b, and 15c.
Item 16 provides space for additional remarks. A claimant certifies that the provided information is accurate by signing the form in Item 17.
Where to Mail VA Form 21-686c?
The filled-in copy of the form should be sent to the regional VA intake center that will process the documents and inform the claimant on any changes to their status.