Instructions for IRS Form 1040-c - U.S. Departing Alien Income Tax Return 2018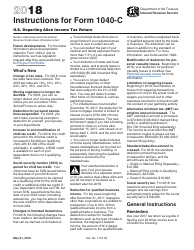 January 1, 2018 "Instructions For Irs Form 1040-c - U.s. Departing Alien Income Tax Return" contain the updated filing procedures for the IRS-issued Form 1040-C. Download your copy of the instructions by clicking the link below.
IRS Form 1040-C is a tax form issued by the United States Internal Revenue Service.
2018
Department of the Treasury
Internal Revenue Service
Instructions for Form 1040-C
U.S. Departing Alien Income Tax Return
Your itemized deductions are no
or business, and the unadjusted basis
Section references are to the Internal
Revenue Code unless otherwise noted.
longer limited if your adjusted gross
of qualified property held by the trade
income is over a certain amount.
or business. The deduction can be
Future developments. For the latest
You can deduct the part of your
taken in addition to the standard or
information about developments
medical and dental expenses that is
itemized deductions. For more
related to Form 1040-C and its
more than 7.5% of your adjusted
information, see Code section 199A.
instructions, such as legislation
gross income (AGI).
enacted after they were published, go
Modification of deduction for per-
Your deduction of state and local
to
IRS.gov/Form1040c.
sonal casualty losses. Beginning in
income, sales, and property taxes is
2018, your deduction for personal
limited to a combined total deduction
What's New
casualty losses is modified. See
of $10,000 ($5,000 if married filing
Personal casualty losses
for more
Change in tax rates. For 2018, most
separately).
information.
tax rates have been reduced. The
You can no longer deduct
Limitation on wagering losses.
2018 tax rates are 10%, 12%, 22%,
job-related expenses or other
24%, 32%, 35%, and 37%.
Beginning in 2018, the limitation on
miscellaneous itemized deductions
losses from wagering transactions
that were subject to the 2% of AGI
Moving expenses no longer de-
applies not only to the actual costs of
floor. You may still deduct certain
ductible. For 2018, you can no
wagers you incurred, but to other
other items on Schedule A, such as
longer deduct your moving expenses
expenses incurred in connection with
gambling losses.
unless you are a member of the
the conduct of your gambling activity.
For indebtedness incurred after
Armed Forces on active duty.
December 15, 2017, the deduction for
Alternative minimum tax (AMT) ex-
Deduction for personal exemp-
home mortgage interest is limited to
emption amount increased. The
tions suspended. For 2018, you
interest on up to $750,000 of home
AMT exemption amount is increased
can't claim a personal exemption
acquisition indebtedness. This new
to $70,300 ($109,400 if married filing
deduction for yourself, your spouse,
limit doesn't apply if you had a binding
jointly or qualifying widow(er);
or your dependents.
contract to close on a home after
$54,700 if married filing separately).
December 15, 2017, and closed on or
Increase in and modification of
The income level at which the AMT
before April 1, 2018, and the prior limit
child tax credit. For 2018, the credit
exemption begins to phase out has
would apply.
amount for the child tax credit is
increased to $500,000 ($1,000,000 if
You can no longer deduct interest
increased to $2,000 per qualifying
married filing jointly).
on home equity indebtedness, which
child, with $1,400 of the credit
Standard deduction amount in-
means indebtedness not incurred for
refundable. In addition, a $500 credit
creased. For 2018, the standard
the purpose of buying, building, or
is available for each of your
deduction amount has been
substantially improving the qualified
dependents that is not a qualifying
increased for all filers, and the
residence secured by the
child.
amounts are as follows.
indebtedness.
Social security number (SSN) re-
Single or Married Filing Separately–
Your standard deduction is
quired for child tax credit. Your
$12,000.
zero if (a) your spouse
!
child must have an SSN issued before
Married Filing Jointly or Qualifying
itemizes on a separate return,
the due date of your 2018 return
Widow(er)–$24,000.
CAUTION
or (b) you were a dual-status alien and
(including extensions) to be claimed
Head of Household–$18,000.
you do not elect to be taxed as a
as a qualifying child for the child tax
Social security tax. For 2018, the
resident alien for 2018.
credit or additional child tax credit. If
maximum amount of earned income
your dependent child has an ITIN, but
(wages and net earnings from
Deduction for qualified business
not an SSN, issued before the due
self-employment) subject to the social
income. For tax years beginning
date of your 2018 return (including
security tax is $128,400.
after December 31, 2017, taxpayers
extensions), you may be able to claim
other than corporations are entitled to
the new credit for other dependents
General Instructions
a deduction of up to 20% of their
for that child.
qualified business income from a
Changes to itemized deductions.
Reminders
qualified trade or business. The
For 2018, the following changes have
deduction is subject to multiple
Use your 2017 tax return as a guide in
been made to itemized deductions
limitations such as the type of trade or
figuring your 2018 tax, but be sure to
that can be claimed on Schedule A.
business, the taxpayer's taxable
consider the following.
income, the amount of W-2 wages
paid with respect to the qualified trade
May 01, 2018
Cat. No. 11311Q
Download Instructions for IRS Form 1040-c - U.S. Departing Alien Income Tax Return 2018