Form F-4 Personnel Action Form - Alaska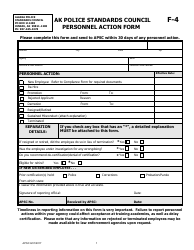 Form F-4 or the "Personnel Action Form" is a form issued by the Alaska Department of Public Safety.
The form was last revised in June 1, 2017 and is available for digital filing. Download an up-to-date Form F-4 in PDF-format down below or look it up on the Alaska Department of Public Safety Forms website.
ALASKA POLICE
F-4
AK POLICE STANDARDS COUNCIL
STANDARDS COUNCIL
PO BOX 111200
PERSONNEL ACTION FORM
JUNEAU, AK 99811-1200
Ph: 907-465-4378
Please complete this form and send to APSC within 30 days of any personnel action.
Last Name
First
Middle
Date of Birth
Address
City
State
Zip
Agency
Rank
Personal E- m a il A d d r e s s
Personal Phone Number
PERSONNEL ACTION:
Effective Date:
New Employee: Refer to Compliance Form for required documents
Re-Hire
Promotion
From:
To:
Rejected Applicant
Reason:
Demotion
From:
To:
Resigned/Retired
Sustained Misconduct (attach explanation)
Terminated
If you check any box that has an "*", a detailed explanation
SEPARATION
MUST be attached to this form.
DETAILS:
*
If resigned or retired, did the employee do so in lieu of termination?
Yes
No
*
Was the employee under investigation for any wrongdoing?
Yes
No
*
Do you recommend de-certification/denial of certification?
Yes
No
*
Eligible for rehire?
Yes
No
IF NEW OR REHIRED EMPLOYEE . . .
Prior certification(s) held:
Police
Corrections
Probation/Parole
From which state:
I swear the information provided above is true and accurate.
Signature of reporting official:
Date:
APSC No.
Received by APSC:
Date:
Timeliness in reporting information on this form is very important. Failure to report personnel
actions within your agency could affect acceptance at training academies, as well as delay
certification. Please note that any information on rejected or terminated employees may be
made available to law enforcement agencies upon request.
APSC 6/01/2017
1