Fill PDF Online
Fill out online for free
without registration or credit card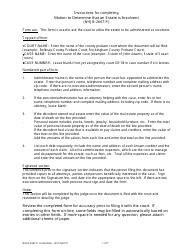 Instructions for Form NHJB-2667-P Motion to Determine That an Estate Is Insolvent - New Hampshire
What Is Form NHJB-2667-P?
This is a legal form that was released by the New Hampshire Judicial Branch - a government authority operating within New Hampshire. Check the official instructions before completing and submitting the form.
FAQ
Q: What is NHJB-2667-P?
A: NHJB-2667-P is a legal form in New Hampshire known as a Motion to Determine That an Estate Is Insolvent.
Q: What does the Motion to Determine That an Estate Is Insolvent do?
A: This motion is used to request the court's determination that an estate is insolvent, meaning that the assets of the estate are insufficient to pay all debts and obligations.
Q: When is NHJB-2667-P used?
A: This form is used when someone believes that an estate does not have enough funds to cover its debts and wants the court to make an official determination.
Q: Is NHJB-2667-P specific to New Hampshire?
A: Yes, NHJB-2667-P is specific to New Hampshire and follows the state's legal requirements.
Q: Do I need a lawyer to fill out NHJB-2667-P?
A: While it is not required, it is recommended to consult with a lawyer when filling out legal forms like NHJB-2667-P to ensure accuracy and compliance with the law.