VA Form 21-0845 Authorization to Disclose Personal Information to a Third Party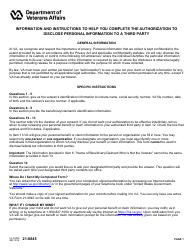 What Is VA Form 21-0845?
VA Form 21-0845, Authorization To Disclose Personal Information To a Third Party is a form is used when a veteran wants to give the Department of Veterans Affairs (VA) the permission to release their personal information to a third party. The VA is prohibited by law from disclosing any information considered confidential or healthcare-related. This means that when a family member or any other person wants to act on behalf of the Veteran, they are often unable to access any of the information kept by the VA. By submitting the VA 21-0845, the Veteran gives the VA permission to release their information to the third party specified in the form.
An up-to-date VA Form 21-0845 fillable version was released on September 1, 2016, and is available for digital filing and download below or can be found through the VA forms website. If the VA has determined that the Veteran cannot manage their own affairs, a VA-appointed fiduciary may sign the authorization for them.
INFORMATION AND INSTRUCTIONS TO HELP YOU COMPLETE THE AUTHORIZATION TO
DISCLOSE PERSONAL INFORMATION TO A THIRD PARTY
GENERAL INFORMATION
At VA, we recognize and respect the importance of privacy. Personal information that we collect is kept confidential to the
extent provided by law. In accordance with the Privacy Act and applicable confidentiality statutes, VA will only disclose the
information in its custody or control in the following circumstances: where the individual identifies the particular information
and consents to its use; where disclosure of the information is required by law; or where the disclosure is otherwise legally
permitted, including release for a purpose compatible with the purpose for which it was collected.
By law, VA must have your written permission (an "authorization") to use or give out your claim or benefit information for any
purpose that is not permitted by all applicable legal authorities. You may revoke your written permission at any time, except if
VA has already acted based on your permission.
SPECIFIC INSTRUCTIONS
Questions 1 - 5
In this section, give us the veteran's identification information to include name, social security number, VA file number, date
of birth and the veteran's service number, if applicable.
Questions 6 - 9
In this section provide the beneficiary/claimant's identification information.
Questions 10 - 13
This section tells VA the duration of your consent. If you do not want your authorization to be effective indefinitely, tell us
when to stop releasing your personal benefit or claim information to your authorized third party in Item 12. Check the box that
applies and fill in dates, if applicable.
In Item 13 VA will give your personal benefit or claim information to the person or organization you fill in here. You may
select only one person or one organization. If you designate an organization, you must also identify one or more
individuals in that organization to whom VA may disclose your benefit or claim information. This form cannot be used to
disclose federal tax information to third parties.
Important: The information provided in Item 6, "Name of Beneficiary/Claimant Who Is Not the Veteran" cannot be the same
information provided in Item 13.
Question 14
Select the security question you would like us to ask your designated third party and provide the answer. This question will
be asked each time your designated third party contacts our office.
Where Do I Send My Completed Form?
You can obtain the VA mailing address to send your completed, signed authorization by accessing our Internet website
at
http://www.va.gov/directory
or in the government pages of your telephone book under "United States Government,
Veterans."
You should make a copy of your signed authorization for your records before mailing it to VA. You can only have one active
VA Form 21-0845 on file with VA at a time.
WHAT IF I CHANGE MY MIND?
If you change your mind and do not want VA to give out your personal benefit or claim information, you may notify us in
writing, or by telephone at 1-800-827-1000 or electronically via the Internet at https://iris.va.gov. Upon notification from you
VA will no longer give out benefit or claim information (except for the information VA has already given out based on your
permission).
VA FORM
21-0845
PAGE 1
SEP 2016
Download VA Form 21-0845 Authorization to Disclose Personal Information to a Third Party
VA Form 21-0845 Instructions
Per VA rules, only one third party elected through the VA 21-0845 is valid at a time. If a new form is received, the previous authorization will be revoked automatically.
General filing instructions are provided on the first page of the form. Detailed instructions for completing VA Form 21-0845 are provided below.
How to Fill Out VA Form 21-0845?
Filling out the VA Form 21-0845 starts with providing the Veteran's identifying information in Section I. The Veteran's name, social security number, their VA file number, date of birth and service number are entered in Blocks 1 through 5.
Section II is for providing the identifying information of the beneficiary or claimant in Blocks 6 through 9. The required information includes their name, address, phone number, and email address.
Section III tells the VA about the duration of the Veteran's consent and the contact information of the authorized third party.

Block 10 is for specifying the extent of information which may be released to the third party. The information authorized for release can be unlimited or limited, as specified by the Veteran.
The desired limits must be specified in Block 11. If the Veteran does not want the authorization to be valid indefinitely, they must provide an end date for the authorization.
Block 13 identifies the person or organization to whom the VA may disclose the Veteran's personal claim information. Only one person or organization may be selected.
Block 14 is for choosing a security question that the VA will ask the designated third party. This question will be asked each time the designee contacts the VA office for information. The answer to the security question should be provided in Block 14b.

Section IV is for the declaration of intent. The Veteran must sign and date the form in Blocks 15a and 15b to certify that the statements on this form are true and correct.
Where to Mail VA Form 21-0845?
The 21-0845 must be sent to one of the 1926 VA facilities. Mailing addresses can be obtained by accessing the VA website or in the government pages of the telephone book under "United States Government, Veterans."