Form 7162 Report to the United States Social Security Administration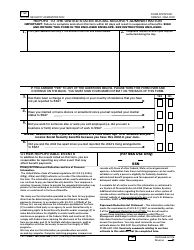 Form 7162 or the "Report To The United States Social Security Administration" is a form issued by the U.S. social security administration.
The form was last revised in July 1, 2011 and is available for digital filing. Download an up-to-date fillable Form 7162 in PDF-format down below or look it up on the U.S. social security administration Forms website.
7162
FORM APPROVED
SOCIAL SECURITY ADMINISTRATION
OMB NO. 0960-0049
REPORT TO THE UNITED STATES SOCIAL SECURITY ADMINISTRATION
IMPORTANT: Failure to complete and return this form within 60 days will result in suspension of benefits. SIGN
AND RETURN THIS FORM IN THE ENCLOSED ENVELOPE. SEE INSTRUCTIONS ENCLOSED.
1.
2.
Telephone number at which you may be
Print your address here only if it is different from the one shown below.
contacted during the day.
IF YOU ANSWER "YES" TO ANY OF THE QUESTIONS BELOW, PLEASE TURN THIS FORM OVER AND
CONTINUE ON THE BACK. YOU MUST SIGN YOUR NAME IN ITEM 7 ON THE BACK OF THIS FORM.
3.
YES
NO
Has there been a change in your citizenship or your country of residence that you have
u
not yet reported to SSA?
4.
Have you married or had a divorce or annulment since you last reported your marital
status to SSA?
u
5.
Did you work for someone else or were you self-employed (i.e. did you own a
u
business or farm) since your last report of work to SSA?
Answer Question 6 only if you are the parent of a child under age 16 or disabled and you
receive Social Security benefits because you have this child in your care.
6.
Did you and the child live apart since you last reported the child's living arrangements
to SSA?
u
OTHER REPORTABLE EVENTS
(For SSA Use Only)
In addition to the events listed on this form, you are
responsible for reporting any other event that may
affect benefit payments.
SSN
Privacy Act Statement/Collection and Use of Personal
records with those of other Federal, State, or local government
Information-
agencies. Information from these matching programs can be used to
The United States Code of Federal regulations (42 U.S.C § 403(c),
establish or verify a person's eligibility for Federally-funded or
403(g), 405(a) and 405(j)) authorize us to collect the information on
administered benefit programs and for repayment of payments or
this form. The information you provide will be used to determine if we
delinquent debts under these programs.
can continue to pay you Social Security benefits. Your response is
voluntary. However, failure to provide the requested information may
A complete list of routine uses for this information is contrained in
prevent us from making an accurate and timely decision on your
our System of Records Notice 60-0069 (Claimes Folders System).
claim, or could result in the loss of benefits.
Additional information regarding this form and our other system of
records notices and Social Security programs are available from our
We rarely use the information provided on this form for any purpose
Internet website at www.socialsecurity.gov or at any U.S. Embassy,
other than for determining the continued entitlement to benefit
consulate, VARO or U.S. Social Security office.
payments. However, in accordance with 5 U.S.C. § 522a(b) of the
Privacy Act, we may disclose the information provided on this form
Paperwork Reduction Act Statement - This information collection
(1) to enable a third party or an agency to assist Social Security in
meets the requirements of 44 U.S.C § 3507, as amended by section
establishing rights to Social Security benefits and/or coverage; (2) to
2 of the Paperwork Reduction Act of 1995. You do not need to
make determinations for eligibility in similar health and income
answer these questions unless we display a valid Office of
maintenance programs at the Federal, State and local level; (3) to
Management and Budget control number. We estimate that it will
comply with Federal laws requiring the disclosure of the information
take about 5 minutes to read the instructions, gather the facts, and
from our records; and (4) to facilitate statistical research, audit or
answer the questions. You may send comments on our time
investigative activities necessary to assure the integrity of SSA
estimate above to: SSA 5401 Security Blvd, Baltimore, MD
programs.
21235-6401 USA. Send only comments relating to our time
We may also use the information you provide when we match
estimate to this address, not the completed form.
records by computer. Computer matching programs compare our
Form SSA-7162-OCR-SM (7-2011) Destroy Prior Editions
Continued on the
7162
u
Reverse
Download Form 7162 Report to the United States Social Security Administration