Form FLH062 Certificate of Employment and Compensation - Cotabato, Philippines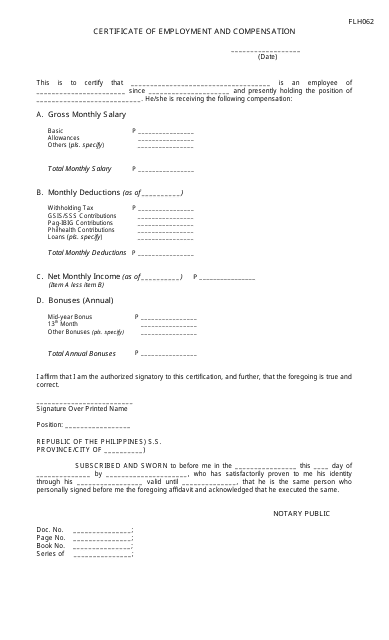 Fill PDF Online
Fill out online for free
without registration or credit card
What Is a Certificate of Employment and Compensation Form?
Form FLH062, Certificate of Employment and Compensation, is a formal document that confirms the employment experience of the individual, their current position, and the amount of salary. This certificate can be prepared by employers of locally employed Filipinos and overseas Filipino workers alike (in English language only) to confirm their employment - usually when the employment contract cannot be retrieved for some reason, or as an addition to it.
Alternate Names:
Certificate of Employment and Compensation;
Certificate of Employment with Compensation.
This form was released by the Pag-IBIG Fund - a large Filipino corporation that specializes in savings and shelter financing for Filipino citizens who work for local and foreign employers and self-employed individuals. A fillable Certificate of Employment and Compensation Form is available for download below.
The Certificate of Employment with Compensation is filled out for two reasons:
Its main purpose is to confirm the employee performs a specific function within a company. It is required to become eligible for monetary assistance from the Pag-IBIG Fund - with these money applicants may obtain housing loans, short term loans, multi-purpose loans, and calamity loans. The fund will be interested in the applicant's employment, its permanence, and this individual's ability to repay the loan.
Since the document can be used more than once, especially considering the notary seal you need to obtain together with the employer, you can repurpose this form and apply for employment using this document to show evidence of your previous work experience.
How to Make a Certificate of Employment With Compensation?
Here is how the employer must fill out an Employment and Compensation Certificate:
Write down the actual date, name of the employee, and business name of your company.
Indicate when the employee started working for you and enter their job title.
Provide a full breakdown of the employee's compensation. State the gross monthly salary and net monthly income after applying deductions, withholding tax, and contributions, and record annual bonuses the employee receives. You have space to specify different components of the salary and various types of deductions and bonuses.
Confirm you are authorized to put your signature on this document, sign it, and write down your position.
State the province or city where your business is located.
Notarize the document by appearing in front of the notary public and presenting this certificate along with identification documents.
Make a copy of the certificate for the company records and write down its identification numbers to be able to find it quicker in the future.
Once the certificate is filled out and notarized, it will be accepted as proof of income. You can strengthen your claim by adding the latest tax return and payslips to the loan application. When you respond to the vacancy, you will be asked to submit a personal data sheet, performance rating, licenses, and documents that confirm you have attended required seminars and training.
Download Form FLH062 Certificate of Employment and Compensation - Cotabato, Philippines