Instructions for IRS Form 1040 - U.S. Individual Income Tax Return 2017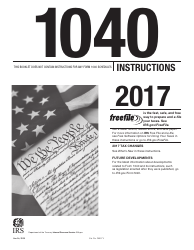 April 18, 2017 "Instructions For Irs Form 1040 - U.s. Individual Income Tax Return" contain the latest filing requirements for the IRS-issued Form 1040. Download your copy of the instructions by clicking the link below.
IRS Form 1040 is a tax form issued by the United States Internal Revenue Service.
1040
INSTRUCTIONS
THIS BOOKLET DOES NOT CONTAIN INSTRUCTIONS FOR ANY FORM 1040 SCHEDULES
2017
is the fast, safe, and free
way to prepare and e-file
your taxes. See
IRS.gov/FreeFile.
Get a faster refund, reduce errors, and save paper.
For more information on IRS Free File and e-file,
see Free Software Options for Doing Your Taxes in
these instructions or go to IRS.gov/FreeFile.
2017 TAX CHANGES
See What's New in these instructions.
FUTURE DEVELOPMENTS
For the latest information about developments
related to Form 1040 and its instructions, such
as legislation enacted after they were published, go
to IRS.gov/Form1040.
IRS
Department of the Treasury Internal Revenue Service IRS.gov
Jan 16, 2018
Cat. No. 24811V
Download Instructions for IRS Form 1040 - U.S. Individual Income Tax Return 2017