DD Form 2947 TRICARE Young Adult Application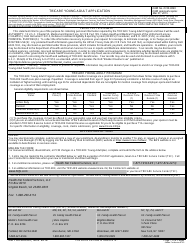 DD Form 2947 - also known as the "Tricare Young Adult Application" - is a United States Military form issued by the Department of Defense.
The form - often incorrectly referred to as the DA form 2947 - was last revised on November 1, 2012. Download an up-to-date fillable PDF version of the DD 2947 below or request a copy through the chain of command.
OMB No. 0720-0049
TRICARE YOUNG ADULT APPLICATION
OMB approval expires
Mar 31, 2015
The public reporting burden for this collection of information is estimated to average 15 minutes per response, including the time for reviewing instructions, searching existing data sources, gathering and
maintaining the data needed, and completing and reviewing the collection of information. Send comments regarding this burden estimate or any other aspect of this collection of information, including
suggestions for reducing the burden, to the Department of Defense, Washington Headquarters Services, Executive Services Directorate, Information Management Division, 4800 Mark Center Drive, Alexandria,
VA 22350-3100 (0720-0049). Respondents should be aware that notwithstanding any other provision of law, no person shall be subject to any penalty for failing to comply with a collection of information if it
PLEASE DO NOT RETURN YOUR FORM TO THE ABOVE ORGANIZATION. RETURN COMPLETED FORM TO THE
does not display a currently valid OMB control number.
DESIRED SERVICING CONTRACTOR SHOWN BELOW.
PRIVACY ACT STATEMENT
This statement informs you of the purpose for collecting personal information required by the TRICARE Young Adult Program and how it will be used.
AUTHORITY: 10 U.S.C. Chapter 55, Medical and Dental Care, 32 CFR Part 199, Civilian Health and Medical Program of the Uniformed Serivces
(CHAMPUS); DoD Instruction 1341.2, Defense Enrollment Eligibility Reporting System (DEERS) Procedures; and E.O. 9397 (SSN), as amended.
PRINCIPAL PURPOSE(S): To collect the information necessary to process your request for coverage, to terminate coverage, or to change your provider.
ROUTINE USE(S): Any protected health information governed by the HIPAA Privacy Rule (45 CFR Parts 160 and 164), as implemented within DoD by DoD
6025.18-R, may disclosed as permitted under those provisions, which includes for treatment, payment, and healthcare operations. In addition, your records
may be disclosed to the Department of Health and Human Services for use in reports and Medicare determinations. Your records may be disclosed to
Federal agencies, and state, local and territorial governments, in order to collect debts and overpayments, to determine whether beneficiaries are eligible for,
or enrolled in, other government or private health insurance plans, and to stop fraud, waste and abuse. Your records may be disclosed outside of DoD to
support research concerning the health and wellbeing of TRICARE beneficiaries. Your records may also be used and disclosed in accordance with 5
U.S.C. 552a(b) of the Privacy Act of 1974, as amended, which incorporates the DoD "Blanket Routine Uses" published at
http://dpclo.defense.gov/privacy/SORNs/blanket_routine_uses.html .
DISCLOSURE: Voluntary. However, failure to provide all requested information may result in denial of your request to enroll in or change your TRICARE
Young Adult health plan coverage.
TRICARE YOUNG ADULT PROGRAM
The TRICARE Young Adult Program extends dependent medical coverage via a premium-based program that allows former dependents to purchase
TRICARE health care plan coverage if qualified. Coverage is extended from age 21 (age 23 if previously enrolled in a full-time course of study at an
institution of higher learning) until reaching age 26 for unmarried dependents that are not eligible for medical coverage from employer-sponsored medical
coverage as a result of their employment.
General eligibility requirements are shown below.
Sponsor
TRICARE
TRICARE
TRICARE
Uniformed
TRICARE
TRICARE
TRICARE
Status
Prime (1)
Prime Remote
Standard
Services Family
Overseas Prime
Overseas Prime
Overseas
(1)
Health Plan (1)
(1)
Remote (1)
Standard
Active Duty
Yes
Yes
Yes
Yes
Yes
Yes
Yes
Retired
Yes
No
Yes
Yes
No
No
Yes
Selected Reserve
No
No
Yes
No
No
No
Yes
(2)
Retired Reserve
No
No
Yes
No
No
No
Yes
(2)
(1) To purchase this coverage, it must be offered in your geographic area and you must meet all other eligibility criteria.
(2) If you are an adult child of a non-activated member of the Selected Reserve of the Ready Reserve or of the Retired Reserve, your sponsor must be
enrolled in TRICARE Reserve Select or TRICARE Retired Reserve as applicable for you to be eligible to purchase TYA coverage.
For specific information on eligibility, coverage, costs, claims submission, go to: www.tricare.mil/tya.
APPLICATION OPTIONS
ONLINE:
You may electronically complete, submit and print a copy of your enrollment, disenrollment, transfer to another TYA plan, or request a change in an assigned
Primary Care Manager (PCM) by logging into the Beneficiary Web Enrollment (BWE) website at https://www.tricare.mil/bwe/. The BWE website is not
available to beneficiaries in overseas areas.
MAILING THE FORM:
For manual enrollment, disenrollment, or PCM changes in a TRICARE Young Adult plan, complete and submit the form to the address below.
1. Forms may be mailed to the contractor identified below or, with the exception of USFHP applications, taken to a TRICARE Service Center (TSC). Call
your Contractor to determine when your new or transferred enrollment will begin.
Health Net Federal Services, LLC
1-877-TRICARE (1-877-874-2273)
2. For enrollment assistance, please call
at
3. For additional information on TRICARE, visit the TRICARE website at www.tricare.mil, the Contractor's website at
www.hnfs.com
or your local TRICARE Service Center (TSC).
(TMA BE&SDs/Contractors will add servicing contractor information. Include name, mailing address and web address of contractor, and enrollment fees.)
Health Net Federal Services, LLC
PO Box 8310
Virginia Beach, VA 23450-8310
Fax: 1-888-299-4114
Uniformed Services Family Health Plan (USFHP) (Include locations, addresses and telephone numbers.)
ME and NH
MD, DE, DC, PA, VA, and WV
MA and RI
NY, NJ, PA, and CT
US Family Health Plan at
US Family Health Plan at
US Family Health Plan at
US Family Health Plan at
Brighton Marine
St. Vincent at NYC
Martin's Point Health Care
Johns Hopkins
P. O. Box 9195
5 Penn Plaza
P. O. Box 9746
P. O. Box 815
9th Floor
Portland, ME 04104-5040
Glen Burnie, MD 21060
Watertown, MA 02471-9900
New York, NY 10001
1-888-241-4556
1-800-808-7347
1-800-818-8589
1-800-241-4848
DD FORM 2947, NOV 2012
Page 1 of 4 Pages
PREVIOUS EDITION IS OBSOLETE.
Adobe Professional 8.0