FAA Form 8610-2 Airman Certificate and/Or Rating Application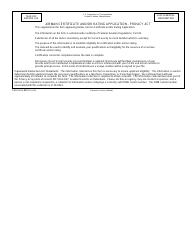 FAA form 8610-2 is a U.S. Department of Transportation - Federal Aviation Administration form also known as the "Airman Certificate And/or Rating Application". The latest edition of the form was released in February 1, 1985 and is available for digital filing.
Download a fillable PDF version of the FAA Form 8610-2 down below or find it on U.S. Department of Transportation - Federal Aviation Administration Forms website.
U.S. Department of Transportation
SUPPLEMENTAL
TEAR OFF
Federal Aviation Administration
INFORMATION
BEFORE USE
AIRMAN CERTIFICATE AND/OR RATING APPLICATION - PRIVACY ACT
This supplements the form appearing below, Airman Certificate and/or Rating Application.
The information on the form is solicited under authority of Federal Aviation Regulations, Part 65.
Submission of all the data is mandatory except for Social Security Account Number which Is voluntary.
The purpose of this information is to establish eligibility for certification and/or airman rating.
The data will be used to identify and evaluate your qualifications and eligibility for the issuance of an airman
certificate and/or rating.
Certification cannot be completed unless the data is complete.
Disclosure of your Social Security Account Number is optional: Disclosure will facilitate maintenance of your
records which are maintained in alphabetical order and cross referenced with your SSAN and airman number to
provide prompt access. In the event of nondisclosure a unique number will be assigned to your file.
Paperwork Reduction Act Statement: The information collected on this form is necessary to ensure applicant eligibility. The information is used to
determine that the applicant meets the necessary qualifications as a Mechanic, Repairman, or Parachute Rigger. We estimate that it will take
approximately 20 minutes to complete the form. The information collection is required to obtain a benefit. The information collected becomes part of
the Privacy Act system of records DOT/FAA 847, Aviation Records on Individuals. Please not that an agency may not conduct or sponsor, and a
person is not required to respond to, a collection of information unless it displays a currently valid OMB control number. The OMB control number
associated with this collection is 2120-0022.
FAA Form 8610-2
Electronic Version (Adobe)
(2-85)
Download FAA Form 8610-2 Airman Certificate and/Or Rating Application