Fill PDF Online
Fill out online for free
without registration or credit card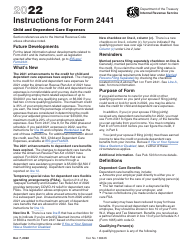 Instructions for IRS Form 2441 Child and Dependent Care Expenses
What Is IRS Form 2441?
IRS Form 2441, Child and Dependent Care Expenses, is a statement developed especially for those taxpayers who have paid someone to care for their child or another qualifying person so they could work or look for work. The purpose of the document is to let taxpayers apply to receive credit for child and dependent care expenses. The document was issued by the Internal Revenue Service (IRS) and was revised in 2022.
Check the official IRS-issued instructions before completing and submitting the form. Download a fillable version of IRS Form 2441 through the link below.