Form DS-156E Nonimmigrant Treaty Trader / Investor Application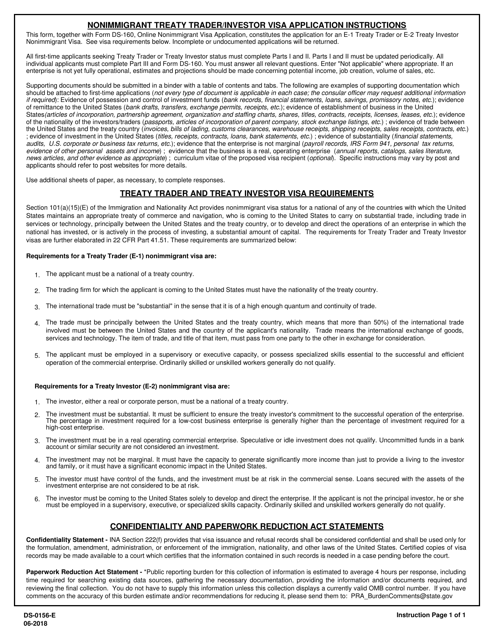 Fill PDF Online
Fill out online for free
without registration or credit card
What Is Form DS-156e?
Form DS-156e, Nonimmigrant Treaty Trader/Investor Application, is a legal document developed for those individuals who would like to apply for an E-1 Treaty Trader or an E-2 Treaty Investor visa. These types of visas are nonimmigrant visas and give the opportunity to their owners to go to the U.S. to carry out substantial trade between the U.S. and their treaty country of origin.
The application was issued by the U.S. Department of State (DS) and was last revised on June 1, 2018. A DS-156e fillable form is available for download below.
Form DS-156E Instructions
Completing the DS-156E Form is a straightforward process. The document is accompanied by a one-page set of instructions where the applicant can find the requirements for Treaty Trader and Treaty Investor visas before applying for it. The application consists of three parts, which include the following:
Business Profile. In the first part of the document, a filer must fill in 13 sections, such as (but not limited to):

Name and type of the U.S. business or enterprise (corporation, joint venture, partnership, etc.), address of headquarters and branch offices, telephone and fax number;
When and where it was established or incorporated in the U.S. (appropriate documentation must be attached);
The nature of the business (general trade, manufacturing, exports from the U.S., imports to the U.S., retail sales). The applicant must also fully describe the service or the production of the business;
If the enterprise has a foreign parent business a filer is required to state its name and address;
The assets, liability, and owners equity of the business, etc.;

Staff. Individuals use this part of the application to enter information about the working personnel of the business in the U.S. They can include:

The type of personnel (managerial executives, specialized essentials, other), whether they are nationals of the treaty country, U.S. citizens, or legal permanent residents;
Personal information about the personnel, their names, positions or titles, nationalities, and information about their U.S., visas (type, sate, and place of issuing);

Applicant. The last part of the form requires a filer to state personal information, which includes the full name of the applicant, their position, name, and address of their employer, education, etc.
To find information about how to file the DS-156E Form, the applicant must visit the official website of the U.S. Embassy or Consulate where they are going to apply. The procedure can vary, however, applicants might be required to provide additional documents with their form, such as bank records, financial statements, licenses, etc.
Other Revision
Download Form DS-156E Nonimmigrant Treaty Trader / Investor Application