Form DMV14 Notice of Change of Address - California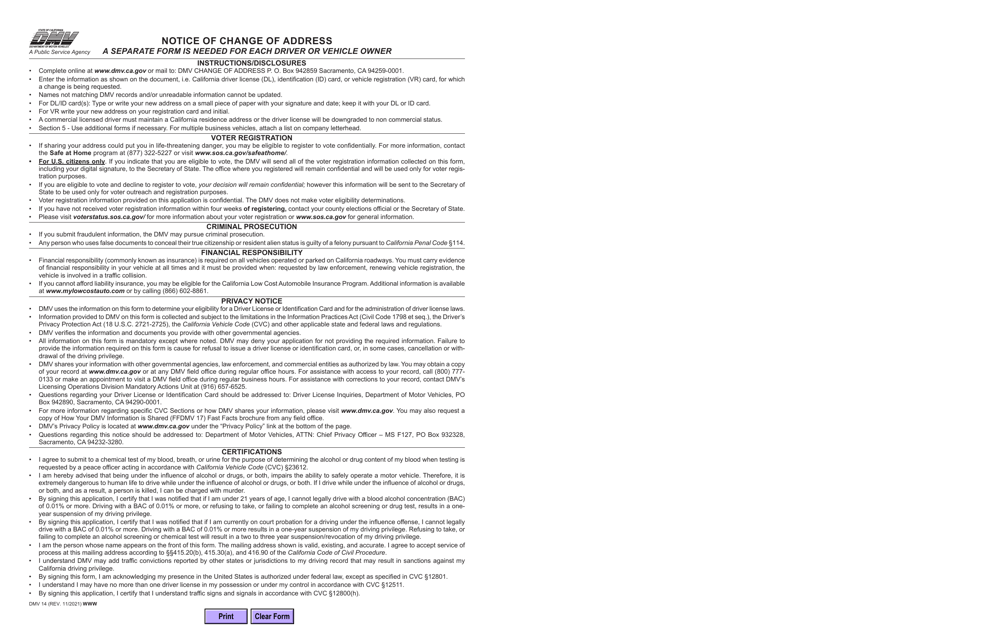 What Is Form DMV 14?
Form DMV 14, Notice of Change of Address, is used to submit a change of residence or mailing address by eligible applicants for their California Driver's License, Identification Card, vehicles, and vessels. When the address is being changed, it is not required to issue a new driver's license, identification card, or registration card. An applicant can change the address for up to three vehicles at one time.
If there are several owners of a vehicle, a separate form should be completed for each owner. DMV Form 14 can be applied for online through the DMV Change of Address System or mailed to your local DMV Office. DMV Notice of Change of Address is used for voter registration as well and contains a special section regarding it.
This form was released by the California Department of Motor Vehicles and the latest version was issued on November 1, 2021. A fillable CA DMV 14 Form is available for download below.
DMV 14 Change of Address Instructions
An applicant, filling out the form, has to print in capital letters and it is only possible to fill out the form in black or dark blue ink only. The instructions for filing DMV 14 Form are as follows:
The filer has to provide their personal information.
Their previous residence address has to be entered.
The new or correct residence address should be indicated.
If the new or correct mailing address is different from the address indicated on Line 3, it should be provided on Line 4. Information about the filer's voting address has to be entered on this line.
The vehicles or vessels owned by the filer have to be indicated in this section. An applicant should check if some of their vehicles are leased, or if they are registered outside of California. For multiple business vehicles, a list on the company letterhead should be attached to the form.
For leased vehicles, the leasing company name has to be provided.
The location of the trailer coach or vessel should be entered if it is different from the residence address.
Section 8 covers voter registration:

The filer has to answer "Yes" or "No" about their United States citizenship. In the case of a "No" answer, sections 8 and 9 have to be skipped, and the filer should fill in Section 10.
The applicant has to confirm their compliance with the voter registration requirements, listed on Line 8a. In case of answering "No," the filer cannot register to vote and has to skip to Section 10.
If the filer is eligible, but they do not want to register to vote or update their voter registration information, the applicable box on Line 8c has to be checked;
This section should be filled in if the applicant is updating their California Driver License or Identification Card address only. The filer has to choose a political party preference, select the language of the election materials received, and enter their telephone number and email for voter registration;

Section 10 contains the signature of the filer and the date of completing the form.
Other Revision
Download Form DMV14 Notice of Change of Address - California