Form EX160 Apply for Help With Court and Tribunal Fees - United Kingdom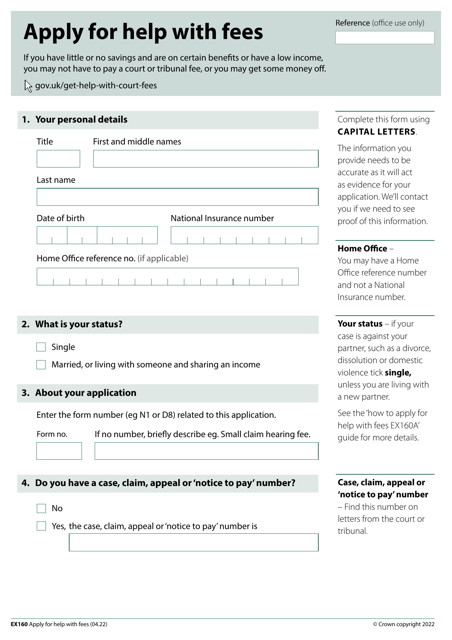 What Is Form EX160?
Form EX160, Apply for Help With Fees, is a formal statement prepared by the parties to a court case if they cannot pay a fee. This form was released by the United Kingdom HM Courts & Tribunals Service on April 1, 2022. A fillable Form EX160 can be downloaded through the link below. Check out Form EX160A, How to Apply for Help With Fees, for additional assistance with your application.
Alternate Names:
Fee Remission Form;
EX160 Court Form.
In case you want to eliminate the fees completely or pay only a portion of it, you have to complete this application to present evidence of your low income, benefits you currently qualify for because of your financial situation, or the lack of available savings and investments. If you are experiencing financial hardship because you are unemployed, older than sixty, or support your children, you may be entitled to a fee exemption which will let you file a claim free of charge or participate in the upcoming proceedings.
How to Fill Out EX160 Form?
Enter your personal information (your title, full name, date of birth, National Insurance Number). If you are subject to immigration control, write down the Home Office reference number instead.
Indicate your marital status (you may select "single" if the case involves your partner because you want to divorce them or report domestic violence).
Record the number of the form you need help with fees for. If the court sent you a letter with a claim or case number, write it down in the application.
If you are handling a probate case or you have already paid the fee, answer "yes." Indicate the date of death of the deceased or state the date you have paid the fee.
Certify the amount of your and your partner's investments and savings. In case you or your partner are older than sixty, state the precise amount of the funds available to you. If you are entitled to any credits or benefits, tick the appropriate boxes to confirm it. State that you have children who live with you or who you support financially.
Outline your and your partner's monthly income including wages, benefits, credits, allowance, pensions, and rent. In case you do not have any income, use free space to explain how do you support your financial needs.
Provide your contact information (your address, email, and phone number).
Confirm the statements in the application are true and complete, write down your name, sign and date the document. You must submit this form to the court that already handles your claim or case. The application will be reviewed within five working days after which you will be notified about a successful request or asked to share more details so that the court can make its decision.
Other Revision
Download Form EX160 Apply for Help With Court and Tribunal Fees - United Kingdom