Form DL-80 Non-commercial Driver's License Application for Change/Correction/Replacement - Pennsylvania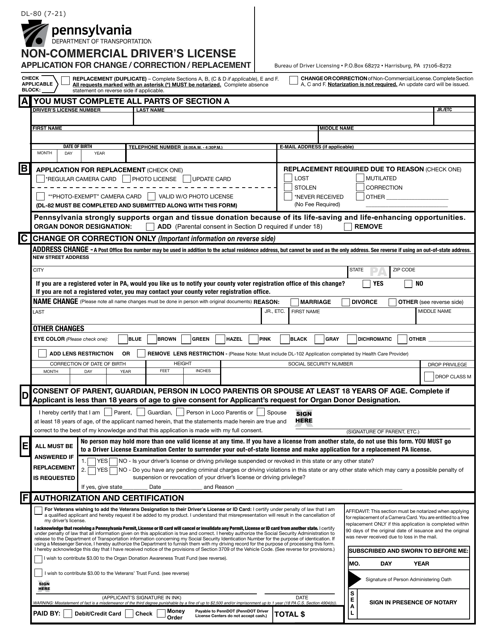 What Is Form DL-80?
Form DL-80, Non-Commercial Driver's License Application For Change/Correction/Replacement, is a legal document used by Pennsylvania residents who need to replace their driver's license to drive non-commercial vehicles, or modify information in the existing license and update the official records.
Alternate Name:
Pennsylvania Driver License Change of Address Form.
This form was released by the Pennsylvania Department of Transportation (PennDOT) on July 1, 2021, with all previous editions obsolete. You can download a fillable Pennsylvania Driver License Change of Address Form through the link below.
Form DL-80 Instructions
Follow these steps to complete the DL-80 Application:
Check the box to choose the reason for applying - obtaining a duplicate or correcting the license;
State your driver's license number, full name, date of birth, and contact information;
Indicate what you need to replace (photo license, regular camera card, or update card) and select the reason for replacement - your documentation was lost, stolen, mutilated, never received, etc.
Record information you want to add to the license to correct it - a new address, name, eye color, date of birth, height, social security number. You can also waive your privilege for a class M license;
Add the donor resignation to your record if you wish. If you are younger than 18, written consent of your legal guardian is required on the form;
Confirm you do not have a suspended or revoked license in any state, sign and date the form.
If you need a camera card or you never received your license, the document must be notarized. Find the applicable fee on the second page of the DL-80 Form and attach a money order or check payable to the PennDOT. Once the application is completed, send it to the Bureau of Driver Licensing, PO Box 68272, Harrisburg, PA 17106-8272.
Download Form DL-80 Non-commercial Driver's License Application for Change/Correction/Replacement - Pennsylvania