DD Form 2876 TRICARE Prime Enrollment, Disenrollment, and Primary Care Manager (PCM) Change Form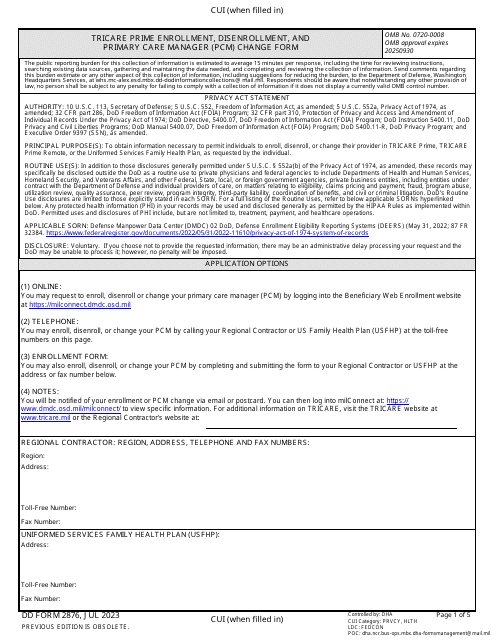 Fill PDF Online
Fill out online for free
without registration or credit card
What Is DD Form 2876?
This is a form that was released by the U.S. Department of Defense (DoD) on July 1, 2016. The form, often mistakenly referred to as the DA Form 2876, is a military form used by and within the U.S. Army. As of today, no separate instructions for the form are provided by the DoD.
Form Details:
A 5-page document available for download in PDF;
The latest version available from the Executive Services Directorate;
Editable, printable, and free to use;
Fill out the form in our online filing application.
Download an up-to-date fillable DD Form 2876 down below in PDF format or browse hundreds of other DoD Forms compiled in our online library.
DD Form 2876 Instructions
The DD 2876 filling out process is self-explanatory. Applicants must choose the desired TRICARE option, submit their own and their relatives' names and addresses along with their sponsor information. All enrolling individuals are obliged to submit information regarding any other health insurance they have access to at the time of filing. Those filing are offered various payment options and need to choose the one that suits their needs best.
Enrolling In TRICARE Prime
TRICARE Prime enrollment is possible only for those registered in DEERS. You can do it by getting in touch directly with the contractor in your region through the TRICARE web page or by submitting the DD 2876 Form. Enrollment in TRICARE Prime is available year-round.
Enrolling in TRICARE Prime Remote for Active Duty Family Members:
Your relatives and members of your family can be enrolled in TRICARE with DD Form 2876. Fill out the application and submit the form to your regional contractor. Visit the BWE website to enroll online.
Separating from Active Duty
If you or your relatives were enrolled in TRICARE Prime immediately before the change in your military status, you may go on with the enrolment process without any intermission as long as you complete a new DD 2876 and submit it to your regional contractor before the end of the TAMP. Family members or dependents may enroll in TRICARE Prime even if they were not enrolled during the time when you left active duty.
Starting on January 1, 2018, accessing urgent care became more widely available. All participants of TRICARE Prime can make unlimited urgent care visits without a referral.
TRICARE Regional Contractors Addresses
East Region

Humana Military, Attn: PNC Bank, PO Box 105838, Atlanta GA 30348-5838

Toll-free number: 1-800-444-5445

Fax number: 1-866-836-9535

West Region

Health Net Federal Services, PO Box 8458, Virginia Beach, VA 23450-8458

Toll-free number: 1-844-866-WEST (1-844-866-9378)

Fax number: 1-844-388-8282

Overseas Region

International SOS Assistance, TOP Prime Enrollments, PO Box 11520, Philadelphia PA 19116,

Fax number: 1-215-354-5015
DD 2876 Related Forms
DD Form 2876-1, Tricare Prime Enrollment, Disenrollment, And Primary Care Manager (PCM) Change Form - for the Eastern Region of the country.
DD Form 2876-2, Tricare Prime Enrollment, Disenrollment, And Primary Care Manager (PCM) Change Form - for the Western Region of the United States.
DD Form 2876-3, Tricare Prime Enrollment, Disenrollment, And Primary Care Manager (PCM) Change Form - for the Overseas Region.
Other Revision
Download DD Form 2876 TRICARE Prime Enrollment, Disenrollment, and Primary Care Manager (PCM) Change Form