VA Form 10-0376a Credentials Transfer Brief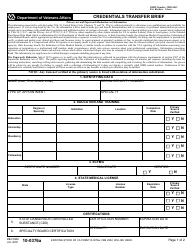 VA Form 10-0376a or the "Credentials Transfer Brief" is a form issued by the United States Department of Veterans Affairs.
The latest fillable PDF version of the VA 10-0376a was issued on July 1, 2005 and can be downloaded down below or found on the Veterans Affairs Forms website.
OMB Number: 2900-0621
Est. Burden: 1 hour
CREDENTIALS TRANSFER BRIEF
Privacy Act and Paperwork Reduction Act Information
The information requested is solicited under Title 38, United States Code, Chapters 73 and 74. This is collected primarily to determine your qualifications and suitability for
employment. If you are employed by the VA, the information will be used to make pay and benefit determinations and, as necessary, in personnel administration processes
carried out in accordance with established regulations and published notices of systems of records. Information may be released without your prior consent where authorized
by Title 38, U.S.C., and the Privacy Act of 1974 (5 U.S.C. 552a) or where required by other statute outside the VA to another Federal, State or local agency, to the National
Practitioner Data Bank which is administered by the Department of Health and Human Services, to State licensing boards, the American Medical Association, Federation of
State Medical Boards, and/or appropriate professional organizations or agencies to assist the VA in determining your suitability for hiring and for employment, to periodically
verify, evaluate and update your clinical privileges and licensure status, to report apparent or potential violations of law, to provide statistical data upon proper request, or to
provide information to a Congressional office in response to an inquiry made at your request. Such information may also be released without your prior consent to Federal
agencies, State licensing boards, the Federation of State Medical Boards, or similar boards or entities, in connection with the VA's reporting of information concerning your
separation or resignation as a professional staff member under circumstances which raise serious concerns about your professional competence. Information concerning
payments related to malpractice claims and adverse actions which affect clinical privileges also may be released to State licensing boards and the National Practitioner Data
Bank. The information you supply may be verified through a computer matching program at any time.
The Paperwork Reduction Act of 1995 requires us to notify you that this information is collected in accordance with the clearance requirements of section 3507 of the
Paperwork Reduction Act of 1995. The public reporting burden for this collection of information is estimated to average 60 minutes per response, including the time for
reviewing instructions, searching existing data sources, gathering and maintaining the data needed, and completing and reviewing the collection of information. No person
will be subject to any penalty for failing to comply with a collection of information if it does not display a currently valid OMB control number. Submission of this
information is voluntary and failure to respond will have no adverse effect on any benefits to which you otherwise may be entitled.
NOTE: Any item not verified at the primary source is listed with notation of information substituted.
1. IDENTIFYING DATA
NAME (Last, First, Middle Initial)
SOCIAL SECURITY NUMBER
TYPE OF APPOINTMENT
SPECIALTY
2. EDUCATION AND TRAINING
Primary
Degree or
Completion
Institution
Location
Source
Specialty
Date
Verified
Y
N
Education
Y
N
Internship
Y
N
Residency
Y
N
Y
N
Fellowship
3. ECFMG
CERTIFICATE NUMBER
ISSUE DATE
VERIFIED
Y
N
4. STATE MEDICAL LICENSE
Primary
License
License
Expiration
State
Source
Type
Number
Date
Verified
Y
N
Y
N
Y
N
CERTIFICATIONS
CERTIFICATION NUMBER
EXPIRATION DATE
STATE DANGEROUS CONTROLLED
5.
SUBSTANCE (CDS)
SPECIALTY
EXPIRATION DATE
6.
SPECIALTY BOARD CERTIFICATION
VA FORM
10-0376a
Page 1 of 2
EXISTING STOCK OF VA FORM 10-0376a, FEB 2002, WILL BE USED.
JUL 2005