VA Form 0120 VA Police Officer Pre-employment Screening Checklist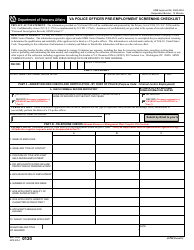 VA Form 0120 is a United States Department of Veterans Affairs form also known as the "Va Police Officer Pre-employment Screening Checklist".
The form was last revised on April 1, 2014 - download an up-to-date fillable PDF VA Form 0120 down below or find it on the Veterans Affairs Forms website.
OMB Approved No. 2900-0524
Respondent Burden: 10 Minutes
VA POLICE OFFICER PRE-EMPLOYMENT SCREENING CHECKLIST
PRIVACY ACT STATEMENT: The information provided on VA Form 0120 will be confidential and protected by the Privacy Act of 1994 (5 U.S.C. 522a) and the
VA's Confidentiality statue (38 U.S.C. 5701) as implemented by 38 CFR 1.576(b). Assurances of confidentiality are provided in the system of records identified as
"Personnel Investigation Records, OPM/Central 9."
RESPONDENT BURDEN: VA may not conduct or sponsor, and the respondent is not required to respond to this collection of information unless it displays a valid
OMB Control Number. The information requested is approved under OMB Control Number 2900-0524, and is necessary to accomplish the pre-employment screening
to determine the qualification and suitability of the applicant to be hired as a VA police officer. This information is solicited under authority of Title 38, United States
Code. Responding to this collection of information is voluntary and failure to furnish this information will have no other adverse effect.
Public reporting burden for this collection is estimated to average 10 minutes per response, including the time for reviewing instructions, searching existing data
sources, gathering and maintaining the data needed, and completing and reviewing the collection of information. Send comments regarding this burden estimate or any
other aspects of this collection, including suggestions for reducing this burden to VA Clearance Officer (005E3), 810 Vermont Ave., Washington, DC 20420. SEND
COMMENTS ONLY. DO NOT SEND THIS FORM OR REQUEST FOR BENEFITS TO THIS ADDRESS.
FACILITY LOCATION
FBI ORI.
PART I - APPLICANT
A. LAST NAME, FIRST NAME, MIDDLE INITIAL
B. SOCIAL SECURITY NO.
C. DATE OF BIRTH
D. SEX
PART II - ARREST RECORD CHECKS AND CERTIFICATION - BY CHIEF OF POLICE (Purpose Code: Criminal Justice Employment)
B. CHECK OF F.B.I. NATIONAL
A. CHECK CRIMINAL RECORD REPOSITORY
CRIME INFORMATION CENTER
UTILIZING THE DROP DOWN BOXES SELECT THE APPLICANTS
NO RECORD
NO RECORD
HOME OF RECORD FOR THE PAST FIVE YEARS
RECORD
(Document explanation of
RECORD
(Document explanation of
CHARGES and DISPOSITION in
CHARGES and DISPOSITION in
Part V)
Part V)
CERTIFICATION: I have reviewed the application and the above candidate has the type of experience that provided the knowledge, skills, and abilities to
successfully perform the duties of a VA police officer.
SIGNATURE OF CHIEF OF POLICE
DATE
Submit by Email to your local HR Mana
PART III - TELEPHONE CHECKS
(Human Resources Management Must Complete This Section)
INSTRUCTIONS: Determine quality of work history for all employment within the past 5 years.
Verify all employment used for qualification regardless of age.
All indicative negative responses must be documented in Part V.
A
B
C
1. NAME OF EMPLOYER
2. NAME AND TITLE OF CONTACT
3. POSITION OR TITLE APPLICANT
HELD DURING EMPLOYMENT
4. DID APPLICANT'S DUTIES INCLUDE
PROTECTION OF PERSONS & PROP.
5. INCLUSIVE DATES OF EMPLOYMENT
6. NUMBER OF HOURS PER WEEK
7. WAS APPLICANT'S QUALITY OF
WORK SATISFACTORY?
8. WAS APPLICANT'S HONESTY AND
CHARACTER SATISFACTORY?
9. APPLICANT'S REASON FOR
LEAVING
10. WOULD YOU REHIRE APPLICANT?
DATE
SIGNATURE AND TITLE
OF INQUIRER
0120
VA FORM
(OPM/Cntral 9)
APR 2014
Download VA Form 0120 VA Police Officer Pre-employment Screening Checklist