Driver's Time Record - New York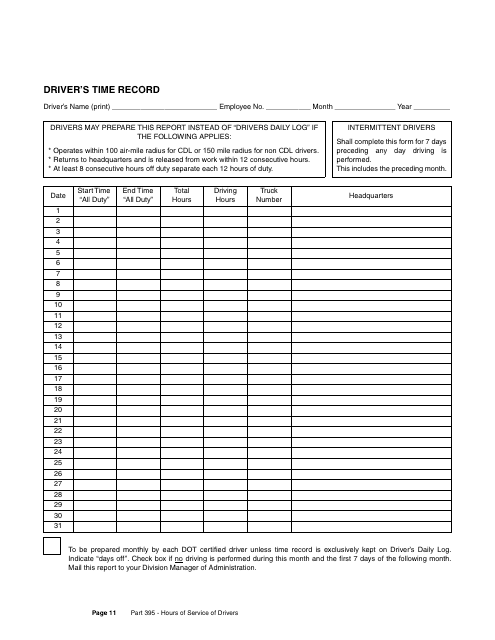 Fill PDF Online
Fill out online for free
without registration or credit card
What Is a Driver's Time Record?
A Driver's Time Record is a required document for all commercial and non-commercial drivers within the state of New York. This document is a record-keeping resource used to track the total number of hours spent on each shipment journey that will be used by each driver. Management will then use these records to calculate pay for each month.
The Driver's Time Record Form can be used in lieu of maintaining a driver's daily log as long as the following rules are maintained:
Driver's do not drive further than a hundred-mile radius, for drivers with a commercial driver's license, or one-hundred-fifty mile radius for drivers without a commercial license;
A driver is able to complete a delivery and return to headquarters within a twelve-hour period.
The driver is given at least eight continuous hours off for every twelve hours they are on duty.
This form is issued by the New York State Department of Transportation - Office of Safety & Security Services. A Driver's Time Record template is available for download below.
How to Fill Out a Driver's Time Record?
To fill-out a Driver's Time Record Form, you will need to include the following information:
Your name, employee identification number, and month and year that the records listed correspond to.

Note, you will need a driver's time record book to maintain a running track of all journeys and add additional pages for future months.

The dates column refers to the days of the month. For the days you are not scheduled to work, you will need to write "day off" in the corresponding row.
Include the time you started working, when you finished work for each day, total hours, driving hours, and truck number for each entry. The total amount of hours should always exceed the total number of hours spent driving.
Include the name and full address of the headquarters to ensure that you remained within the mileage boundary each month.
If you are an intermittent driver you will need to complete this form for seven days before any day of driving has occurred, including if the timeline will extend into the previous month.
If you have not completed any driving duties within a given month plus the first seven days of the next month, check the box at the bottom of the page to notify your supervisor of this fact.
When you have completed each month's record, you will mail the report to your Division Manager of Administration and you should maintain a copy of each form for your own personal records.
Download Driver's Time Record - New York