Form SSA-3373-BK Function Report - Adult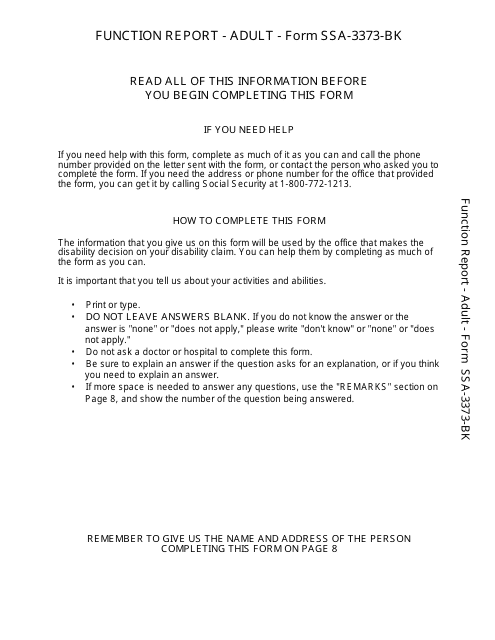 Fill PDF Online
Fill out online for free
without registration or credit card
What Is Form SSA-3373?
Form SSA-3373-BK, Function Report - Adult , is a form used to determine whether an individual was eligible for Social Security disability benefits. The form is issued and distributed by the U.S. Social Security Administration (SSA).
Alternate Names:
SSA Form 3373-BK;
Form SSA-3373;
SSA Function Report Form.
The latest version of the document was released on January 1, 2013 . An SSA-3373-BK fillable form ​is available for download and digital filing below or on the SSA website.
How to Fill Out Form SSA-3373-BK?
Filling out the form may be complicated and time-consuming. If you experience any difficulties, fill out the answers you are sure about and contact your local Social Security office for help. Besides, you can consult with the disability attorney or advocate about the case. Various SSA-3373-BK sample answers are available online to facilitate the completion process.
Form SSA-3373-BK Instructions
Form SSA-3373-BK is a ten-page form that should be completed as follows:
Provide your basic personal and contact information in Section A ("General Information").
List all your illnesses, injuries, and medical conditions and describe how they affect your ability to work in Section B ("Information about Your Illnesses, Injuries, or Conditions").
Describe how your condition affects your daily routine in Section C ("Information about Daily Activities"). If you need help with daily activities, specify the help you need.
Provide the information about your abilities and the medications you are taking in Section D ("Information about Abilities").
Add any information you think is important that does not seem to fit in previous sections in Section E ("Remarks"). Make sure to provide as much detail as possible.
The last part of the form requires your name, completion date, and full mailing address. Send or take the document to the office that requested it. You can specify the address by calling the SSA.
Tips for Filling Out SSA-3373-BK
Read the whole form before completing it.
Answer every question. Do not leave blank boxes. Answer "None" or "Don't Know" if necessary.
Avoid cursive.
Provide all the required explanations. If the space provided is not enough, continue in the "Remarks" section.
When providing the explanations, concentrate on your disabilities rather than your abilities.
Try to be consistent and do not provide unrelated information.
Be honest. The SSA will compare your answers to your medical records. Willful representation of false statements may result in fine or imprisonment.
Double-check your answers.
Your doctor or hospital is not allowed to complete the form.
Make a copy of the completed form for your records.
---
Not what you were looking for? Check out these related forms:
Download Form SSA-3373-BK Function Report - Adult