DD Form 2923 Privacy Act Data Cover Sheet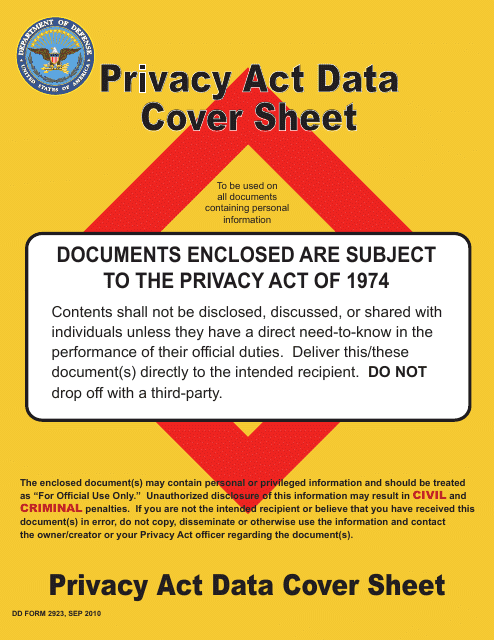 What Is DD Form 2923?
DD Form 2923, Privacy Act Data Cover Sheet, is a document used to safeguard personally identifiable information when you handle, process, store, or transmit it to limit the potential for unauthorized disclosure. Print this cover sheet and attach it to documents with contents that cannot be discussed, shared, or disclosed with individuals who do not have a direct "need-to-know" to perform their official duties. Any information that can be used to distinguish one individual from another and identify a specific person is considered Personally Identifiable Information (PII).
This form was released by the U.S. Department of Defense (DoD). The latest version of the form was issued on September 1, 2010, with all previous editions obsolete. A DD Form 2923 printable form is available for download below. You do not have to add anything to Form DD 2923 - simply attach it to documents that contain privileged or personal information considered "For Official Use Only."
DD Form 2923 Instructions
The use of DD Form 2923 to identify and keep safe the PII contained in various hard copy documentation is recommended in the following circumstances:
Hand-carrying the documents. In this case, DD Form 2923 should be displayed on the front of the document folder or packet. Note that the documentation must be delivered directly to the intended recipient and not left with a third party.
Working at your desk with sensitive information. Attach the cover sheet to the front of all folders and separate documents containing information that relates to identifiable individuals.
Mailing the documents. To do it the safe way, double wrap the contents of the envelope. Attach the cover sheet to the outside of the inner envelope and to the front of the documents with the PII.
Faxing the documents. You need to use the form as the first page of the fax to precede the document that includes the PII.
Recordkeeping the documents. Your command or activity may store the documents in desk drawers, file cabinets, over desk bins, etc. Generally, it is up to your senior management to decide how to safeguard documentation - whether to attach the cover sheet to the documents themselves, the folder in the container, or the outside of the container. Additionally, if you need to store documents overnight or longer, the storage device must be locked. The locked office itself will serve as the storage container.
Download DD Form 2923 Privacy Act Data Cover Sheet