DA Form 7413 Exceptional Family Member Program (EFMP) Assignment Coordination Sheet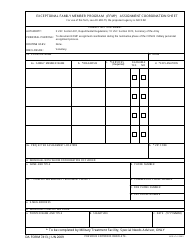 DA Form 7413 - also known as the "Exceptional Family Member Program (efmp) Assignment Coordination Sheet" - is a United States Military form issued by the Department of the Army.
The form - often mistakenly referred to as the DD form 7413 - was last revised on June 1, 2009. Download an up-to-date fillable PDF version of the DA 7413 down below or look it up on the Army Publishing Directorate website.
EXCEPTIONAL FAMILY MEMBER PROGRAM (EFMP) ASSIGNMENT COORDINATION SHEET
For use of this form, see AR 608-75; the proponent agency is OACSIM
PRIVACY ACT STATEMENT
5 USC Section 301, Departmental Regulations; 10 USC Section 3013, Secretary of the Army
AUTHORITY:
To document EFMP assignment coordination during the nominative phase of the CONUS military personnel
PRINCIPAL PURPOSE:
assignment process.
None.
ROUTINE USES:
Voluntary.
DISCLOSURE:
1a. SPONSOR NAME
b. RANK
c. * SERVICES
AVAILABLE
2a. FAMILY MEMBER NAME
b. * DIAGNOSIS
d. * EXPLANATION
(Required)
YES
NO
3a. PROJECTED ASSIGNMENT LOCATION
b. * ZIP CODE
4. INDIVIDUAL WITH WHOM COORDINATION OCCURRED
a. NAME AND TITLE
b. PHONE NUMBER
5a. * COMPLETING MILITARY TREATMENT FACILITY
b. COMMERCIAL PHONE NUMBER
c. DSN PHONE NUMBER
d. FAX PHONE NUMBER
e. E-MAIL ADDRESS
6. INDIVIDUAL COMPLETING FORM
a. PRINTED NAME AND TITLE
b. SIGNATURE
c. DATE (YYYYMMDD)
* To be completed by Military Treatment Facility, Special Needs Advisor, ONLY
PREVIOUS EDITION IS OBSOLETE.
APD LC v1.00ES
DA FORM 7413, JUN 2009
Download DA Form 7413 Exceptional Family Member Program (EFMP) Assignment Coordination Sheet