DA Form 5425 Applicant/Nominee Personal Financial Statement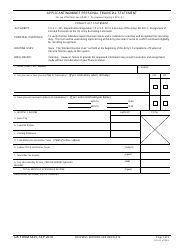 DA Form 5425 - also known as the "Applicant/nominee Personal Financial Statement" - is a United States Military form issued by the Department of the Army.
The form - often mistakenly referred to as the DD form 5425 - was last revised on September 1, 2010. Download an up-to-date fillable PDF version of the DA 5425 down below or look it up on the Army Publishing Directorate website.
APPLICANT/NOMINEE PERSONAL FINANCIAL STATEMENT
For use of this form, see AR 601-1; the proponent agency is DCS, G-1.
PRIVACY ACT STATEMENT
5 U.S.C. 301, Departmental Regulation; 10 U.S.C. 3013, Secretary of the Army; AR 601-1, Assignment of
AUTHORITY:
Enlisted Personnel to the US Army Recruiting Command.
To verify that the individual meets financial criteria and is suitable for selection and assignment for recruiting
PRINCIPAL PURPOSES:
duty. This form will be used during inprocessing at the Army Recruiter Course to confirm continued eligibility
for recruiting assignment.
None. The "Blanket Routine Uses" set forth at the beginning of the Army's Compilations of System of
ROUTINE USES:
Records Notices apply to this system.
Voluntary. However, failure to provide the requested information may result in selection and assignment
DISCLOSURE:
made without consideration of your financial status.
(Last, First, Middle)
1. NAME
2. GRADE
(If yes, state when, where, and why.)
3. Are you now or have you ever filed for bankruptcy?
YES
NO
(If yes, enter month and year below.)
4. Have you ever received a letter(s) of indebtedness?
MONTH
YEAR
MONTH
YEAR
5. MONTHLY INCOME
TOTAL
AMOUNT
a. Basic Pay
b. Separate Rations
c. Clothing Allowance
(Total of a thru c above)
d. Total Military Income Before Taxes
(Subject)
e. Subtract FICA and Income Taxes
(Equal)
f. Total After Tax Income
(Add)
(Do not include Spouse's
g. Any other Monthly Income
income)
TOTAL MONTHLY SPENDABLE INCOME
(Equal)
ADDITIONAL INFORMATION OR REMARKS
Page 1 of 3
DA FORM 5425, SEP 2010
PREVIOUS EDITIONS ARE OBSOLETE.
APD LC v1.00ES
Download DA Form 5425 Applicant/Nominee Personal Financial Statement